Pac-Man 99 adds Wagan Land theme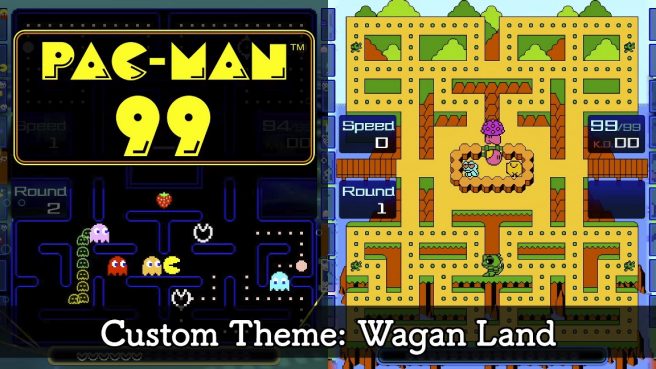 More DLC has made its way to Pac-Man 99, with Bandai Namco now offering a theme based on Wagan Land.
Wagan Land originally released in 1989 on the Famicom, though it did appear on the Game Gear later on as well. It's a platformer starring Wagan, who can stun enemies using sound waves. The game did not see a proper English release outside of Japan back in the day.
Wagan Land is just one of many themes that we've seen in Pac-Man 99 over the past few months. Other additions include Warp & Warp, Tower of Babel, Tank Battalion, Hopping Mappy, Splatterhouse: Wanpaku Graffiti, Baraduke, Bravoman, Cosmo Gang the Video, Dig Dug, Dragon Buster, Galaga, Namco Classics 1-5, New Rally-X, Rolling Thunder, The Genji and the Heike Clans, The Legend of "Valkyrie", The Return of Ishtar, The Tower of Druaga, Wonder Momo, Xevious, and Yokai Dochuki.
The Wagan Land theme for Pac-Man 99 is free to download. It can be selected by visiting the game's settings and going to the "Custom Theme" option.
Pac-Man 99 originally made it to Switch this past April. If you have an active Nintendo Switch Online subscription, you can pick up the title on the eShop and play the game now at no extra cost.
Source: Switch eShop
Leave a Reply