Paper Mario dev unsure if the series will continue to move away from RPG roots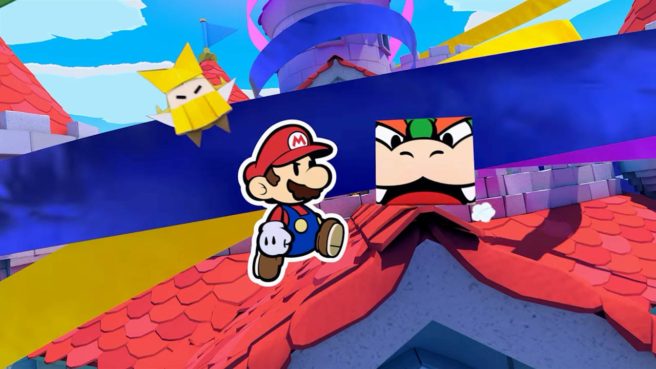 Paper Mario has continued to stray farther and farther from its original RPG roots over the years. These days, the games are much more adventure-focused. The change in genres has been a conscious decision from the development team, but according to producer Kensuke Tanabe, nothing is set in stone when it comes to future titles.
Recently, Eurogamer Germany asked Paper Mario: The Origami King producer about the decision not to feature heavy RPG elements in Origami King. Tanabe said in response (as translated by Nintendo Everything):
"When developing Paper Mario: Sticker Star, one of our goals was to move away a bit from the traditional RPG style. Nintendo has another RPG series starring Mario and we wanted to distance ourselves from it by making an adventure game with a focus on solving puzzles. Even though we've stuck to that decision so far, we haven't decided yet whether or not we will keep doing so in the future. Personally speaking, I want to keep developing Paper Mario games that are both innovative and unique."
While the Paper Mario series is still going strong today, it's unclear what we'll be seeing from the Mario & Luigi RPG series, so it's interesting that it was referenced by Tanabe. AlphaDream previously worked on the handheld series, but filed for bankruptcy last October.
Outside of discussing the future of Paper Mario, Tanabe also touched on how the Paper Mario series can evolve even though many fans want a return to its RPG roots. He indicated that doing the same thing repeatedly wouldn't offer a surprise to players.
Tanabe stated:
"The game development philosophy I've adopted from Mr. Miyamoto is developing innovative and unique gameplay systems. I'm not opposed to the fans' opinions. However, I view my game development philosophy as separate from that. If we used the same gameplay system wanted by the fans again and again, we wouldn't be able to surprise them or deliver new gameplay experiences. We always try our best to exceed expectations in surprising ways. At the same time, there's no guarantee that we'll always succeed in doing that – so it's a real challenge."
Thanks to Matt for assisting us with this translation.
Leave a Reply