Pokemon 2019 Press Conference live stream, live blog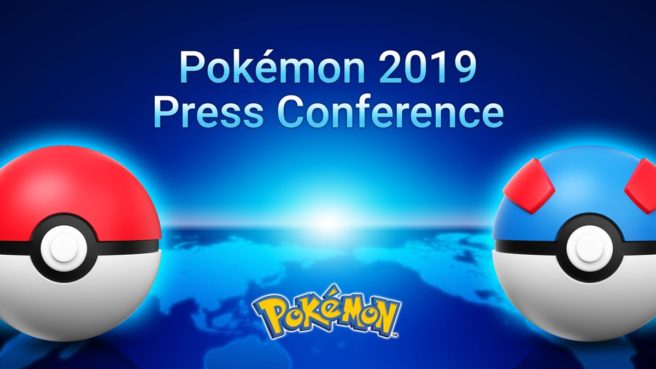 Today's Pokemon 2019 Press Conference will be kicking off not too long from now. The festivities begin at 6 PM PT / 9 PM ET / 2 AM in the UK / 3 AM in Europe.
It's unclear what exactly will be discussed during the conference. Other than the fact that it will feature "a number of topics of interest to Pokémon fans", nothing else is known at this time. Regardless, you can keep track of the event with the live stream and our live blog below.
Live Stream
Live Blog
Beginning at 9 PM ET…
-Labeled as the "Pokemon Business Strategy Announcement"
-Revealing upcoming Pokemon projects with partners
-Announcements made in Chinese, plan to utilize more Chinese going forward to accommodate fans
Detective Pikachu (the movie)
-Hiro Matsuoko being made external board member to Pokemon Co. Board of Directors
Detective Pikachu (Switch)
-Continuation of Detective Pikachu (3DS) coming to Switch
Pokemon Center Stores
-Recently opened in Singapore
-Pokemon Center coming to Shibuya in Fall 2019, Shibuya Parco Shopping Center
-Built under new concept of merging Pokemon with latest technology
-Short video shown, interactive parts
-Stylish black designs
-Nintendo Tokyo store coming to Shibuya Parco as well
Pokemon Quest (China)
-Being brought to China by NetEase Games
-Working to resemble worldwide game
Junichi Masuda from Game Freak on stage
-Many new users over the recent years
-Remembering older players
-Focus on connecting players
Pokemon Home
-"A place where all pokemon gather"
-Cloud service on mobile, 3DS, and Switch
-Can allow connectivity across platforms
-Connect with Pokemon Bank, GO, Let's GO, Sword and Shield
-Will continue on future generations
-Trading functionality online, with friends, or with people nearby
-Early 2020 launch
Pokemon GO
-Video shown
-Turned walking into entertainment, sleep is the next challenge
Pokemon Sleep
-Created with the help of Select Button (who made Magikarp Jump)
-"Look forward to waking up every morning"
-Uses sleep information to create new experiences
-"Transforming sleep into entertainment"
-Coming 2020
-Working with Nintendo and Niantic to turn resting into gameplay
Nintendo
-Hardware development focused
-Pokemon GO Plus and Pokeball Plus devices focused as examples
-Developing a new device for Pokemon Sleep
-the "Pokemon GO Plus +"
-Can also be used as a Pokemon GO Plus
-Put it on your bed to attract simple information about how you sleep
-Embedded accelerometer, data sent to smartphone through bluetooth
-Can help transform the time spent walking and sleeping into something more fun and enriching
Niantic
-Working to incorporate rest into Pokemon GO
-Encouraging a healthy lifestyle of getting better sleep
-Finding ways to reward good sleep habits in Pokemon GO
-Snorlax promo event, increased spawn rates currently in Pokemon GO
The Pokemon Co.
-Mission to enrich both the real and virtual world with Pokemon characters
Pokemon Masters
-DeNA involved in project, mobile title
-Idea from Ken Sugimori
-Past and present trainers from the games focused, partner pokemon
-New key art shown
-Video shown
-Blue, Cynthia, Misty, Brock shown
-Gameplay shown off, 3 vs 3 battle gameplay
-Android and IOS release in 2019
-More details coming in June
Pokemon Shirts
-Original 150 Pokemon featured in shirts
-Customize your own shirt online
-Service expanding, starting with North America and Europe
-More details coming later
Leave a Reply