Pokemon: Let's Go, Pikachu / Eevee dev interview – Masuda says it's likely his last time as director for main series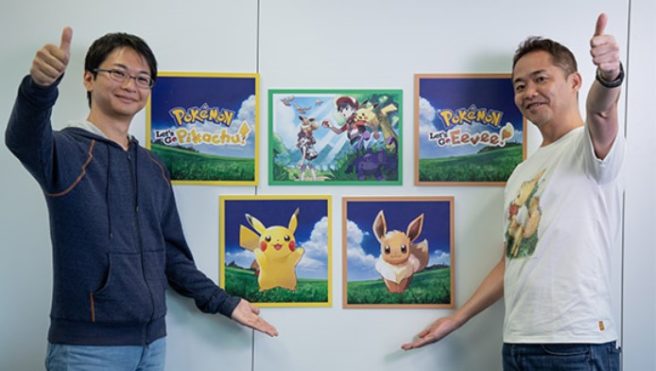 The Pokemon Company published a lengthy interview with Game Freak's Junichi Masuda and Kensaku Nabana today. In it, the two developers discussed Pokemon: Let's Go, Pikachu / Eevee in-depth. One of the more notable things we hear is that Masuda believes this will likely be his last time working as director on a mainline Pokemon RPG.
Here's the full interview:
Creative Inspiration

Pokemon.com: Where does the original creative spark for a new Pokémon adventure usually come from? What are the first things you work on when get that spark?

Junichi Masuda: I think that no matter who you are, if you are a creative person, a new project begins with the desire to do something specific or figure out the solution to a specific problem. For example, we have Nintendo Switch, which can be used in the living room as a home console. So we have the issue of getting people into the room to play the game. That's where we started with this project—through that concept.

The ideas of connecting the games to Pokémon GO, of creating the Poké Ball Plus to be able to use it to catch Pokémon, and of two-player multiplayer were ideas we came up with to solve that problem. We had this goal in mind and then thought about what kinds of features to implement that would meet that goal. It's the same when I create music. I always try to think about who the listener will be and what situation they will be in when listening to the music, and then I make music to fulfill that kind of image in my mind.

Pokemon.com: Mr. Masuda, these are the first games you've directed for Nintendo Switch. What opportunities afforded by the new hardware were you most intrigued by?

Masuda: At first glance, it's a complicated piece of hardware—you can connect it to the television, you can take it out with you in handheld mode, there's a touch screen, you can take off the controllers, there are gyro motion controls, and there are a lot of other elements. So in the face of those complications, the approach we took was to look at the ways we could simplify things. We took the idea of using a single controller to play the game to make that all feel less complicated, and that also opened the path to having this kind of local two-player multiplayer where you can share the controllers.

Of course, from a technology perspective, there's the increased power of the hardware, which really allowed us to have much better visuals than we've had before. The communication technology in the system also proved very valuable. For example, we use Bluetooth to allow Trainers to transfer Pokémon from Pokémon GO into Pokémon: Let's Go, Pikachu! and Pokémon: Let's Go, Eevee!, which is something we wouldn't be able to do without that technology. Behind the scenes, it's kind of a complicated setup, but we always try to make it feel very simple for the player.

---

A Living World

Pokemon.com: The world of Pokémon feels more active than ever in these games, giving the sense of a living, breathing place. Was that a priority during development, and if so, why did you feel it was important?

Masuda: Because you don't battle wild Pokémon in these games, we wanted to come up with ways to encourage people to run in and go find the Pokémon they want to encounter. Having Pokémon appear in the world lets the player see the ones they want to catch and encourages them to do so, but it also makes the world feel, like you say, more alive and richer as a result.

Pokemon.com: A lot of personality shines through in the way each Pokémon moves and acts. Were there any Pokémon that proved especially challenging in this regard? And do any Pokémon stand out to you as favorites in the way they animate?

Masuda: There are two parts to how we gave the Pokémon's movements and actions a lot of personality. There are, of course, the animations that each Pokémon has, but there are also the patterns in which they move. That was something I came up with near the end of last year. I developed a basic set of rules for how all the Pokémon should move, such as how many steps they should take before they stop and let out a cry or what their behavior pattern is for when they move again.

Once I handed this set of rules over to the programmers, they added their takes on how the individual Pokémon would move for an extra layer of personality. One of the things that was memorable to me was watching one of our movement programmers. He was referring to a video of rabbits walking around when he was creating the movement for Nidoran, which ended up influencing how that Pokémon moves. I wound up really liking Nidoran's final animation.

Pokemon.com: There's a lot of focus on the two main Pokémon in these games—they're featured on the cover, they boast unique moves, and players have new ways to interact with them. Is this bond between Trainer and first Pokémon something you've always wanted to emphasize more?

Masuda: It was something we definitely aimed for in these games—to really increase that ability to form a bond with your partner Pokémon even more than you have been able to in the past. Not only can the Trainer do things to feel they're getting closer to their Pokémon, but the Pikachu and Eevee partner Pokémon in the games do things to make them feel closer to the Trainer. It's kind of a back-and-forth relationship.
Leave a Reply