Pokemon Scramble U announced for Wii U, available as a download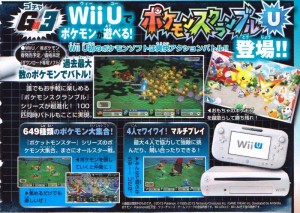 The Wii U has its first Pokemon game. "Pokemon Scramble U", announced in CoroCoro this month, is heading to Japan this spring. It will be available exclusively through the Wii U eShop.
Pokemon Scramble U features the same kind of gameplay fans have been accustomed to with the past two releases. You'll be able to team up with three other players and use up to 100 Pokemon at once. Pokemon Scramble U will contain the full set of 649 Pokemon.
Fans can likely expect Pokemon Scramble U to make its way to North America and Europe in the future. The mini-franchise is known as "Pokemon Rumble" in the west.
Leave a Reply