Pokemon Sun/Moon devs on connectivity with Pokemon GO, choosing platform for next entry, 3D, much more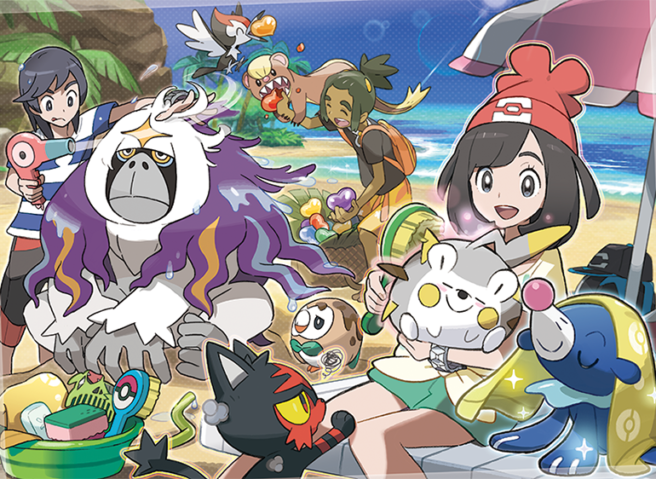 A ton of Pokemon Sun/Moon developer interviews are starting to come online. Series producer Junichi Masuda and director Shigeru Ohmori fielded a ton of questions from the press.
First up is Game Informer, who asked the two about topics such as connectivity with Pokemon GO, which platform we'll see the next entry on, stereoscopic 3D, and much more about Sun/Moon specifically. Naturally, the discussion wouldn't have been complete without a question about Yungoos looking like Donald Trump. You can find a bunch of notable comments below, and the full interview here.
On whether Yungoos is modeled after Donald Trump…
Junichi Masuda: It's a very American-centric question I think, and actually a lot of people sent me comparison photos on Twitter pointing out the resemblance. But we had started design of this Pokémon a long time back, and we didn't any intention to make it look like Donald Trump.
… Yeah, we were really surprised when I saw those photos. I can see why people would think it would look similar, especially the hair style.
On the Hawaiian setting…
Shigeru Ohmori: It kind of goes back to we knew this was gonna be a 20th anniversary game. I really went back to kind of just the basics to really re-examine at this time 20 years of Pokémon: What are Pokémon? What kind of creatures are they as living beings? For example, when thinking about how to really just best express this concept I knew I wanted to focus on this idea of life and how the sun and moon are involved with creating life on this planet, and in terms of a region that would be best representative of that.
I have been to Hawaii a lot on vacations, and I know how good Hawaii is. It captures it all. You get all the warm sun, and it's full of life and nature and it really captures all these concepts that I wanted to go through – the sun and the moon affecting life on this planet – and also kind of how the people in Hawaii really live with nature, and I felt that would just be a kind of suitable inspiration for the region that would one day express these concepts.
On vehicles…
Shigeru Ohmori: This goes back to the conceptual stages. We really wanted to kind of re-examine or put the focus again on the relationship between humans and Pokémon and come up with a lot of different ideas about how they might interact with each other and the world. How they might, for example, work together or live together. So a lot of conceptual art pieces in the beginning stages showed maybe humans would be using vehicles and the Pokémon would be riding in them. As development went on, we kind of settled in terms of getting around in the game using the Pokémon ride feature, where you can ride on a variety of different Pokémon, so the focus really isn't specifically on a lot of more vehicles then you would see in the past. I mean, there are some vehicles in the game that do appear.
On why there are only Kanto Pokemon as Alola Forms…
Shigeru Ohmori: This is really my first time working as a director on a completely all-new title. Last time, Omega Ruby and Alpha Sapphire was kind of remake of an older title. Also with this being the 20th anniversary, I was just thinking that we have so many fans – long-time fans of the game that have played since the beginning, and I really wanted to have a special surprise for those players. Also for the fact that Pokémon from the Kanto region of the original game are probably the most recognizable among long-time fans. So I really wanted to kind of focus on them and give them kind of them a new take on their appearance to really surprise them. But at the same time, by having the new appearance they kind of look like new Pokémon for a lot of new players who are maybe just getting started with Pokémon. So that was the reason we decided to focus on Kanto Pokémon.
On whether we'll see more of Professor Oak's family…
Junichi Masuda: The cousin character, Samson Oak – we actually put that guy in the game to represent the Alola variants. He's kind of an Alola variant himself, and that's kind of his goal in the Alola region: to research these Pokémon that have adapted to the Alolan environment and changed how they appear. There are some other characters that may show up and may be recognized by fans of the previous games. So there's some characters recurring, and maybe they show up with a different look than they had before. But in terms of Oak's extended family, I think this is the only guy in Sun and Moon.
On whether you'll be able to soar over the top of the map like in Omega Ruby/Alpha Sapphire…
Shigeru Ohmori: With Omega Ruby and Alpha Sapphire, it being kind of a remake of a game from over a decade ago, we really wanted to show it from a different perspective, which is why we did the soar feature, which allows you to fly the skies. But with Sun and Moon, we really put the focus more on doing this rite of passage to travel across to different islands. We really put the focus more on walking the islands with your own two feet.
On any cross-promotion between Sun/Moon and GO…
Junichi Masuda: With Pokémon Go, yeah, we definitely want to have some kind of – at some point – some kind of connectivity, some way the games can interact. A lot of people, of course, knew Pokémon from the animated series, but Pokémon Go reached even way more people than the anime. It's released in more countries and has reached a much wider audience. So, I think a lot of people maybe learned about Pokémon for the first time from Pokémon Go, the core concept of throwing out a Pokéball and catching a Pokémon, so we don't want to waste that. We want people who picked up Pokémon and learned about it through Pokémon Go to also play Sun and Moon and the main series games. We want to have a kind of way to connect the two, or have a way for people who enjoyed one to enjoy some of their progress in the other. But that will definitely come down the road.
On whether Sun/Moon will be the last Pokemon games on 3DS with NX on the horizon…
Junichi Masuda: When it comes to the main series, thinking of Pokémon RPGs that we develop at Game Freak, we always really considered the timing of when we released them. There has to be a certain point where we're able to release the games and get them into the hands of enough people, to make sure the audience is big enough. This year, with Pokémon Sun and Moon, obviously we're going to be starting to think about the next title, and then depending on what that timing is, I think that will determine which we platform we would release it on.
On stereoscopic 3D…
Junichi Masuda: Definitely, it's a cool feature of the 3DS, we think, but at the same time, we really want to kind of focus on making these really rich graphics and visual expressions, and sometimes you have to make certain sacrifices to achieve that. At the same time, being an RPG, they're going to play for probably dozens of hours, we always thought that with Pokémon, that it's important for the player to see that 3D effect in really effective locations as we see it instead of keeping it on the entire time.
On Mega Evolutions…
Shigeru Ohmori: With Pokémon Sun and Moon, we wanted to focus on a new addition to the battles, and that's what we put in as the Z moves. The basic concept is that each Pokémon in the game will be able to use one of these Z moves once per battle to unleash a really powerful move. We felt that really increases the range of Pokémon that can be viable in a battle from a strategy perspective. That really allows people to use a lot of different Pokémon. We really wanted to have people kind of get used to this new idea, this new strategic element. So over the course of the main scenario of the main game, Mega Evolutions don't appear. But once you finish the story, you unlock the access to Mega Evolve Pokémon. You run through the main game learning about these new Z moves, and after the game you unlock more strategic depth by combining Z move with mega-evolve Pokémon.
On how much water there will be…
Shigeru Ohmori: Each game really tries to uniquely define the region strengths and characteristics, so with Hoenn we put in a lot of water because we wanted to put some of the focus on diving around to the deep sea or use Surf to get around the region, so that was where we had a lot of water in that game. With Sun and Moon, if you look at the map of it looks like there's a lot of water, but in the actual game itself I think you'll see that there's quite a bit less water that you traverse across.
As I mentioned earlier, in Pokémon Sun and Moon one of the core ideas is that you're going across all these different islands completing these challenges as a rite of passage type of thing. You go around conquering each of the different islands, and then there's new excitement and new unique features awaiting you on the next island. So that was one of the things we wanted to focus on and really make it look different than before.
On how battles now look like they take place in the true environment…
Shigeru Ohmori: We're always experimenting with a lot of things internally at Game Freak and before this project began, we were trying to figure out the best way to make the player feel like they're battling in that spot where they had an encounter. I think that's the way it appears in Sun and Moon as a result of those experiments. It really often ties back to what I was saying earlier about the Alola region. I really wanted to express a sense of life and nature. Having those encounters take place when you're immersed in this sense of nature makes it more seamless and also helps achieve that goal as well.
On what dictates if a Pokemon has three evolutions…
Junichi Masuda: So we always look at the Pokémon as living creatures especially when we get inspiration from existing animals, like say a caterpillar evolves into a butterfly. That kind of stuff makes sense, but really it just depends on the Pokémon. When we're creating it, if it makes sense that it would have evolved forms and there's a good idea for it then we'll go with that but it's really a case by case thing.
On whether they're running out of animals to base Pokemon off of…
Junichi Masuda: I don't really feel we are running out of material, especially with the series as it's progressed. We've tried to find more of a fine balance of creatures that may look like they could be typical animals and also more Pokémon based on inanimate objects. I don't feel like we're running out of material or ideas anytime soon, but I think it's the result of trying to find that balance.
Leave a Reply