Pokemon Unite dev on the game's time limit, fair-play points, more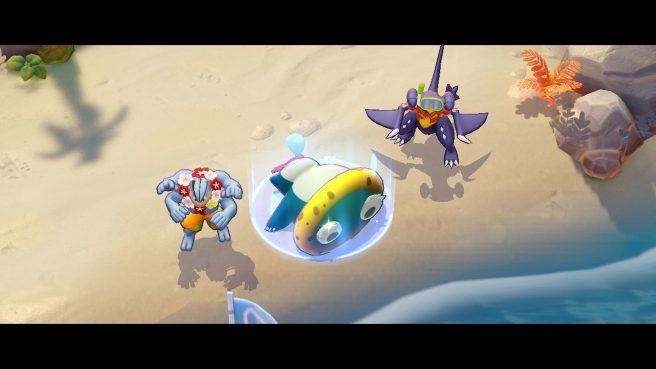 Pokemon Unite producer Masaaki Hoshino commented on a couple of the title's gameplay mechanics in a previous interview with Famitsu, including the time limit for matches and fair-play points.
Below is Nintendo Everything's translation of those excerpts:
As we played the game, we found 10-minute matches to be the perfect length. Can you tell us how you settled on that time limit?

It was to allow players to pick up and play the game more casually. Other games in the genre rely on a win condition as opposed to a time limit, but a win condition means nobody can predict when a match will end. A time limit means the game will always finish after 10 minutes. This allows players to sneak in a casual match where they can, be it before bed or whenever they've got a few minutes. In saying that, judging from our play testing, many players seem to play for hours at a time though (laughs).

It was interesting to see the fair-play points system used. Is it possible to tell us how this came to be?

What that does is decrease a player's total points after doing things like disconnecting or abandoning mid-match. Players who fall under a certain threshold will not be able to join matches. It was less about punishing players for doing the wrong thing but informing and incentivizing new players to do things that keep things fun for everyone.
The interview also contained some other interesting discussion. Outside of the time limit and fair play points, Hoshino also touched on the music and character designs of Pokemon Unite:
Was there anything else you paid special attention to?

Hoshino: Music was a big focus in the game. All music is composed by Mr. Shota Kageyama. Thanks to his compositions, I think we were able to portray the Pokemon battle. "Shivre City" is particularly iconic, so please give it a listen!

Shivre City is the stage in quick battles. I'll have to give it another listen when the full game is released.

Hoshino: We also asked Hitoshi Ariga to draw the character designs such as for Professor Phorus. We also had him draw a young professor Phorus, and actually had a whole backstory written around how she discovered Aeos energy. Although we couldn't incorporate it in this game, hopefully there'll be an opportunity to unveil it to the world.
Pokemon Unite is now available on both Switch and mobile devices as a free-to-play title.
Leave a Reply