Precision platformer Cyjin: The Cyborg Ninja hitting Switch next week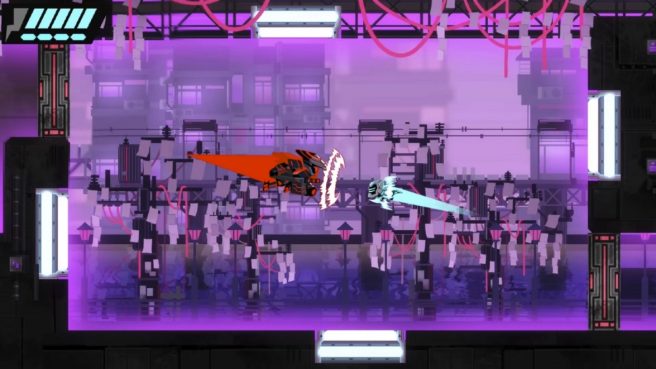 Publisher No Gravity Games and developer Aiya Games will soon be putting Cyjin: The Cyborg Ninja on Switch. The game is scheduled to launch on October 6, 2022, the two sides announced today.
Cyjin: The Cyborg Ninja, a precision platformer with "fast-paced gameplay and accelerated dashing action", is set in a cyberpunk world. Read more about the title below.
Imagine combining challenging precision platforming, pick-up-and-play gameplay, fast-paced action, a neon cyberpunk setting, and a ninja robot – all into one game. It's time to test your platforming skills!

After suffering defeat at the hands of his arch-nemesis, the Shōgun, Cyjin is left to rust in a robot graveyard. Awakening beneath a mountain of scraps, Cyjin returns to the land of the living with a single goal: to seek revenge against his foes and make them pay. It's not just lasers obstructing a path or the deadly spikes … there's even a deadly army of hostile yōkai-inspired robots. Can you find a way out?

Key Features:

– ACCELERATED DASHING ACTION: Crush your enemies with quick acceleration!
– SWIFT & PRECISE PLATFORMING: Aim to choose a path and keep jumping! Watch out for hazards and obstacles – just stay alive!
– EXCITING BOSSES: Intense boss fights that will challenge your skills!
– 2D CYBERPUNK SETTING: A world that blends Eastern themes with a cyberpunk vibe – from the deep wasteland of the Junkyard to the traditional futurism of the Urbanscape.
– CHALLENGING PUZZLES: Puzzles require quick thinking and inhuman reflexes. Better start stretching those fingers!
And here's a trailer for the game:
Cyjin: The Cyborg Ninja will cost $9.99 on the Switch eShop.
Leave a Reply