Reggie on Smash Bros. DLC characters being decided, post-release content, 3DS-only releases, more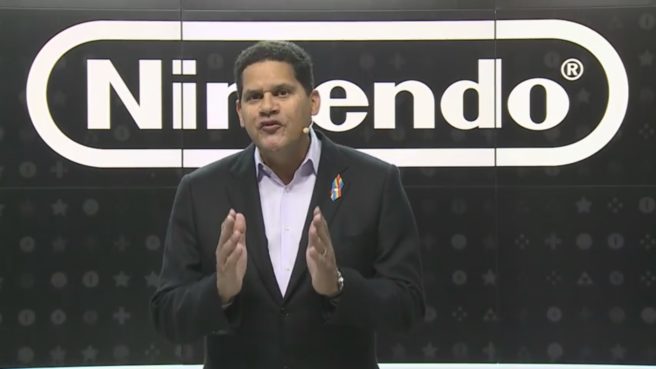 Kotaku has published another round of comments from an interview conducted with Nintendo of America president Reggie Fils-Aime. Reggie weighed in on how the DLC characters for Super Smash Bros. Ultimate have been decided, the importance of post-release content, fan frustration about some games only being on 3DS (and not Switch), and more.
You can find a summary of Reggie's comments below. Find Kotaku's full article here.
On the possibility of Nintendo Switch Online expanding the type of games it offers…
"As we look to the future, our subscription service, NSO, Nintendo Switch Online is going to be the place where you can play our classic content…"
"We'll see what comes next. As you have already pointed out, we haven't even made the full library of NES games available yet. So this content has to be optimized for the Switch environment. That's something we're working very hard to do. Like you, I look forward to playing Metroid through the Nintendo Switch Online service and we'll be continuing to release content that way."
Reggie on Sakurai saying that the Smash Bros. Ultimate DLC characters have been decided…
"I haven't talked to him, but I believe he was working hard to communicate two things: One, that the characters have been decided on. Second, that he is well in development on this, so please be patient. My interpretation is that there will be no fan polls, [and that] no independent poll trying to push Waluigi, as an example, will not influence the decisions that have already been made."
"We're not here to discuss that (possible Waluigi inclusion) at this point in time."
On competitive gaming for Smash Bros…
– Nintendo will "work with the existing events that are in place, make the product available, encourage the community"
– Nintendo may create some events of their own but that the Activision-Blizzard model of creating their own leagues for Smash or any other game is "not an approach that we believe makes sense for our content"
On post-release content…
– Post-release content is a "critical tactic" for Nintendo
– Nintendo's developers "understand that smart post-release content can drive ongoing engagement both with that particular game and to the platform."
– Zelda: Breath of the Wild DLC "has done exceptionally well in our marketplace"
On why cloud-streaming games are only available in Japan…
– Those efforts are "very exciting"
– Only available in Japan due to their "high-speed wireless capability" and infrastructure
– Nintendo is "looking at that activity as a very interesting test case and certainly is going to drive our thinking and our potential investments here in the Americas"
On how some 3DS games aren't on Switch…
"… clearly, our development focus is on Nintendo Switch. You look at the plethora of content we've launched; the plethora of content we've announced. That is clearly where our development focus is. However, there are a lot of five, six, seven-year olds who have an opportunity to have their first gaming device and to have a fantastic gaming experience. And that's what our dedicated handheld business is for, both the 2DS and the 3DS."
– Nintendo is selling to kids
– "the next generation of gamers need to start somewhere"
"Well, we want the newest experience to be on Switch. That's why the upcoming Luigi's Mansion game is going to be a fantastic experience."
Leave a Reply