Rocko DLC released for Nickelodeon All-Star Brawl, gameplay trailer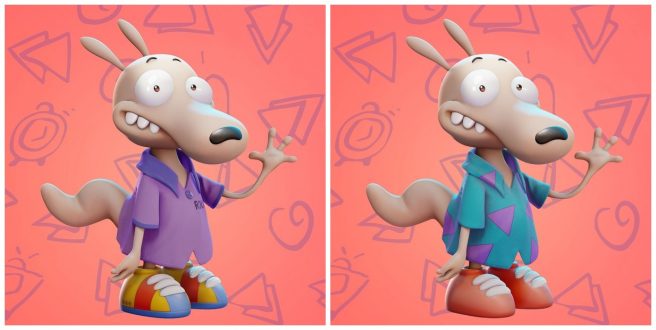 Rocko was previously announced for Nickelodeon All-Star Brawl, but it turns out that the new DLC character has just been released. Everyone on Switch can claim the content now.
Rocko comes with his alternate costume and Hard Core Chores stage. Although he's not a particularly strong character, he uses lots of projectiles and moves that are hard to predict.
Rocko's moves are as follows: Light Neutral "Wallaby Kick", Light Up "Brains Out", Light Down "Cleaning Duty", Light Neutral Air "Is This Karate?" Light Up Air "Right, Left, Right", Light Down Air "Rolling Pin", Light Dash Attack "Roller Fall", Strong Neutral "Scream", Strong Up "Pogo Jump", Strong Down "Hammer Attack", Strong Neutral Air "Whaaat?!?", Strong Up Air "Look at it", Strong Down Air "Watch Out!", Strong Dash "Crazy Vacuum", Neutral Special "Go Spunky!", Up Special "Flying High!", Down Special "Jack the Hammer".
Here's a gameplay trailer showcasing the Rocko DLC for Nickelodeon All-Star Brawl:
Rocko can be purchased individually for Nickelodeon All-Star Brawl at a price point of $4.99. He's also available as part of the Universe Pack – Season Pass with Jenny (My Life as a Teenage Robot) and Hugh Neutron (Jimmy Neutron), which costs $11.99.
Will you be picking up today's new Rocko DLC? Let us know in the comments.
Leave a Reply