Nickelodeon All-Star Brawl has just released Hugh Neutron DLC, gameplay video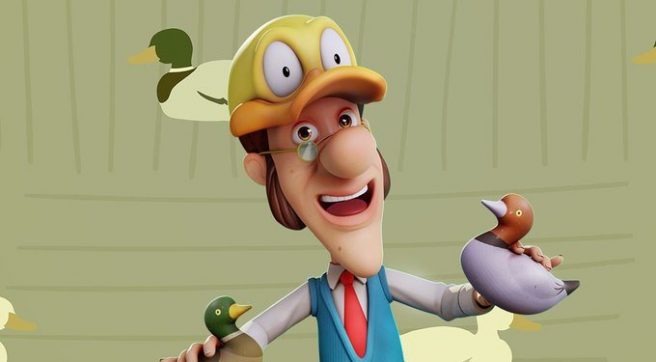 The previously-announced Hugh Neutron DLC is now available for Nickelodeon All-Star Brawl, publisher GameMill as well as developers Ludosity and Fair Play Labs have announced.
Hugh Neutron is voiced by Mark DeCarlo. He brings along an all-new stage and bonus alternate costume, pictured above.
The character is said to feature "a new, wacky, fast-paced fighting style." He's able to fly like a duck, and even hit with one as well. Pies, bananas, motorcycles, and the art of Duck-Fu are also at his disposal.
As for the stage, it's straight from Hugh's dreams. Players can battle atop a giant pie in a magical sky filled with ducks, roosters, and even more pie.
Here's a video showing the Hugh Neutron DLC for Nickelodeon All-Star Brawl:
The Hugh Neutron Brawler Pack is now available as part of the Nickelodeon All-Star Brawl Universe Pack – Season Pass, which also features Jenny Wakeman and Rocko (Rock is coming this fall), as well as their unique stages and costumes for $11.99. The "Hugh Neutron Brawler Pack" can also be purchased individually for $4.99.
Aside from the DLC, Nickelodeon All-Star Brawl has gained a new update. We have the highlights below, and the full rundown with character changes can be found here.
Hugh Neutron joins the battle as a DLC character!

Reworked interaction calculations to ensure consistent outcomes

RPS

Neither player suffers any hitlag whatsoever

Base stun frames increased from 30 to 60

Percentage penalty multiplier decreased from 0.5 to 0.3

Warning color overlay to indicate stun ending now appears later (20f → 30f)

Losing RPS no longer causes the character to slowly fall, they'll just be dazed in whatever location they interacted in

Spinout no longer forces a character to leave the ground

Stunturn will actively turn the player horizontally similar to how spinout turns the character vertically

Now considered an "OnHit" interaction

Inactive hitboxes changed from single capsule to mirroring hurtbox values

Inactive hitboxes persist throughout the active hitbox states, disappear when the active attack fully ends

Fixed bug causing momentum to be retained even after losing a stock

Initiating an air-taunt while holding another player will cause that held character's grab-escape state to be fully actionable

Picking up an item with light attack no longer requires the user to also hold down

Halved the speed at which a character can be pushed

Destroying/Reflecting a projectile will now cause the attacker & projectile to incur whatever base hitlag the projectile would've caused on-hit
Finally, we'll also mention that Mark DeCarlo and Debi DerryBerry – the voice of Jimmy Neutron – will be hosting an independent Nickelodeon All-Star Brawl creator tournament live on YouTube tonight at 5:30 PM PT / 8:30 PM ET. You can tune in right here.
Leave a Reply