RollerCoaster Tycoon Adventures boxart, new screenshots and details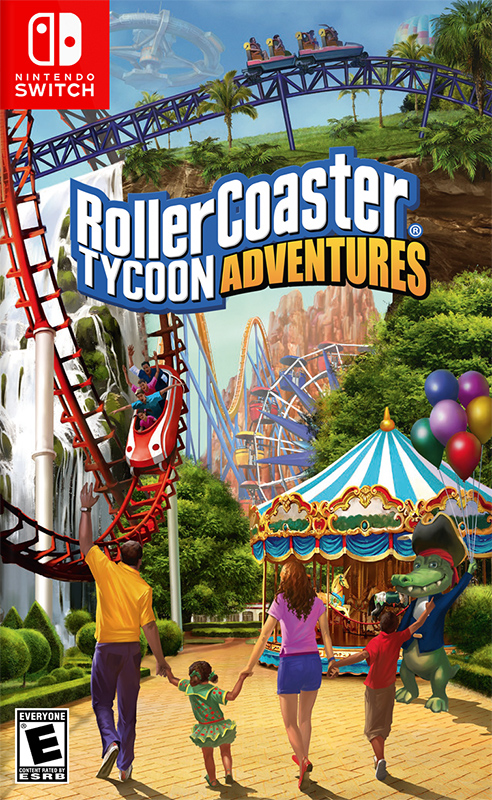 The official website for RollerCoaster Tycoon on Switch has been updated. With the final title RollerCoaster Tycoon Adventures, it provides the official boxart, new screenshots, and details.
We have the boxart attached above. Continue on below for an official overview and screenshots.
RollerCoaster Tycoon Adventures brings the legendary RollerCoaster Tycoon series into the next generation – combining classic RCT gameplay with the modernized user experience of the critically acclaimed mobile title RollerCoaster Tycoon Touch, all customized for the unique features of the Nintendo Switch. Build your entertainment empire in three distinct game modes – classic Campaign, tricky Scenarios, and the open Sandbox. Over 200 wonderfully wacky rides, restaurants, shops and decorations ensure parks burst with action, and the intuitive coaster builder lets you create wild, death-defying coasters with ease. Play it on your TV or on-the-go – it's never been so easy to become a RollerCoaster Tycoon!

FEATURES

Exciting Game Modes: Create outrageous parks in 3 different fun-filled modes – Campaign, Scenario, and Sandbox.
Thrill Rides: Place 7 types of fully customizable roller coasters in your park – Wooden, Steel, Winged, Hyper, Inverted, Dive, and Accelerator. Use the ride cam for maximum thrills!
Intuitive Management System: Streamlined management and easy-to-use tools make RollerCoaster Tycoon Switch the most accessible entry in the RCT franchise, and a perfect fit for the Nintendo Switch.
Personalize your Park: Pick from over 50 vivid colors to customize rides, roller coasters, shops and restaurants.
Park Landscaping: Modify your land with path, foliage and river tiles.
Immersive Environments: Build incredible parks in 4 distinctive locations – Alpine, Moon, Canyon, and Tropics.
Attractions Galore: Choose from over 200 wacky rides, restaurants, shops and decorations for your park, from the humble Merry-go-Round to the death-defying Roto-Drop, all featuring advanced shaders and effects.
Intuitive JoyCon or Touchscreen Controls give you the freedom to play the way you want.
Seamless play between dock mode and handheld mode lets you play anywhere!
Runs at 1080P @ 30FPS docked, and 720P @ 30FPS in handheld mode.
Thanks to AwesomePlatter for the tip.
Leave a Reply