Rumor: Nintendo partnering with Kellogg's on Super Mario Cereal, works as an amiibo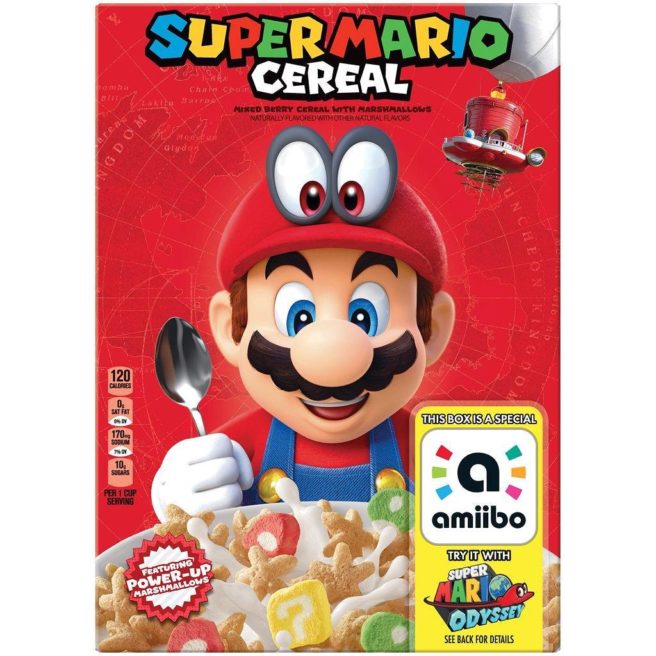 Update: Reader mariobitsize passed along messages received from Kellog's earlier today, which we've added in below. Apparently this cereal "is hitting store shelves now" and "a limited number" will have the amiibo sticker. Either this is an elaborate fake, or it's indeed happening. We'll keep an eye on the situation.
---
Original: New Super Mario Cereal could be coming up in the future from Kellogg's. Cerealously claims to have obtained a box image of the product. The cereal itself will apparently feature oat pieces with colored marshmallow shapes, including Super Mushrooms, 1-Up Mushrooms, and ? Boxes.
What might be even more noteworthy here is that the cereal itself can apparently be used as an amiibo. The box teases functionality with Super Mario Odyssey.
Cerealously does believe that the cereal is legitimate, but there's also the possibility that it could be just a prototype. If it is the real deal, this would definitely be interesting.
---
Kellogg's message
We cerealously appreciate your continued interest in seeing a Nintendo cereal, Chris! We hope you'll keep an eye out for the new Super Mario Cereal that is hitting store shelves now. This star-shaped cereal features Super Mario-inspired marshmallows, and a limited number of packages will have an amiibo powerup sticker that can be used on the Super Mario Odyssey game with the Nintendo Switch gaming console.

… The product's name is simply "Super Mario Cereal," and as it's just coming to stores now, it may take some time to arrive in your area. It can be helpful to check in with managers at your local stores for availability information – or to see if they can order it in for you…
Leave a Reply