Sakurai explains Small Battlefield addition in Smash Bros. Ultimate, elaborates on online play adjustments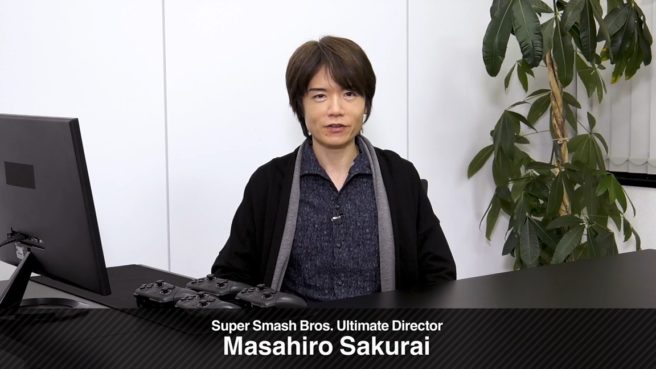 In his 611th column for Famitsu, Masahiro Sakurai revealed some interesting details regarding the recent update to Super Smash Bros. Ultimate. Sakurai is known for getting particular about the finest of adjustments, and the most recent update is no different. He elaborates on the development of the recently added "Small Battlefield" stage, online connectivity changes, and more.
Check below for the column's full translation by Nintendo Everything's Oni Dino.
It's rather belated, but I'm going to write about the August 5th update to Super Smash Bros. Ultimate that added the "Small Battlefield" stage.

First let's talk about "Small Battlefield". Both "Battlefield" and "Final Destination" are quintessential representations of Smash Bros. stages. "Battlefield" has a main stage with three raised platforms that you can pass through, while "Final Destination" has no platforms. "Battlefield" was originally designed for 4 player matches, and it's often used when players want a genuine, all-out brawl. It's rather spacious for a one-on-one battle, though, considering players can jump around using the platforms. And in "Final Destination", it's not possible to use tactics with verticality. With those aspects in mind, we created "Small Battlefield" with one less hovering platform.

We didn't simply remove a platform and call it a day, though. The outer portions of the stage have been pulled inward a bit, and the overhead self-destruct range has been reduced, too.

However, "Small Battlefield" is different from converting a stage into a "Battlefield" version. Every stage in Super Smash Bros. Ultimate can be turned into a "Battlefield" or "Final Destination" version of itself, allowing players to enjoy the variety of stage aesthetics the game has to offer. But if we were to do the same with "Small Battlefield", we would have to make over 100 different stage conversions, which is totally impossible. That's why we added it as just a single stage.

But that alone doesn't give the game an all-star feel – we wanted to really make the game shine! So for the "Battlefield" and "Final Destination" versions of stages, we've given players the freedom to choose any track they want from any of the stages, which are nearing 1000 songs at this point!

It's a huge deal to get permission from each of the rights holders, but we were able to make it happen.

There are some side effects, though: players aren't able to narrow down existing Smash Bros. songs in the My Music options. I guess it's hard to imagine entering the songs one by one, even if all 1000 songs were included in the My Music option. Therefore, the odds of a song appearing the My Music option are integrated from all the stage settings. So, if you don't like a song, you can set the probability of its appearance in other stages to zero, and it shouldn't come up.

Basically speaking, it's based on the premise that you can choose your favorite songs on the spot – just press the Y button before starting a stage and choose your songs instantly.

The online modes have also had some adjustments. One of the most substantial being a greater reduction to input lag where we've shortened the transmission intervals and buffering during communication. But as a side effect, the game may stutter a bit if there's lag. Additionally, other minor adjustments have been made to optimize match-making.

The reason why no specific details were announced regarding improving communication is because no matter how much we improve it, the players' connectivity is the bigger factor here.

The other day the producer of Tekken, Mr. Harada, said, "About 60% of home consoles use Wi-Fi." In the Nintendo Switch's case, it's probably higher than that. But even if not, from a global perspective, not everyone's internet is as good as Japan's. Improvements come with their share of risks, but on average, internet has been getting better in recent years, so we've got to be flexible and reevaluate things.

Furthermore, I've heard about requests to display whether other players are using Wi-Fi or not, but we can't do that because players could refuse matches with them. Some players have asked for a [netcode] rollback, but we tested something similar during development and decided against it because the side effects were quite significant.

And finally, it looks like Super Smash Bros. Ultimate has sold more than 20 million copies! There are so many players already, and that number continues to grow, so we'll keep on doing our best to make possible adjustments.
---
Translation provided by Oni Dino on behalf of Nintendo Everything.
If you use any of this translation, please be sure to source Nintendo Everything. Do not copy its full contents.
Leave a Reply