Sakurai humbly celebrates Smash Bros. Ultimate beating Street Fighter II's sales, talks eSports, FGC, the true appeal of Smash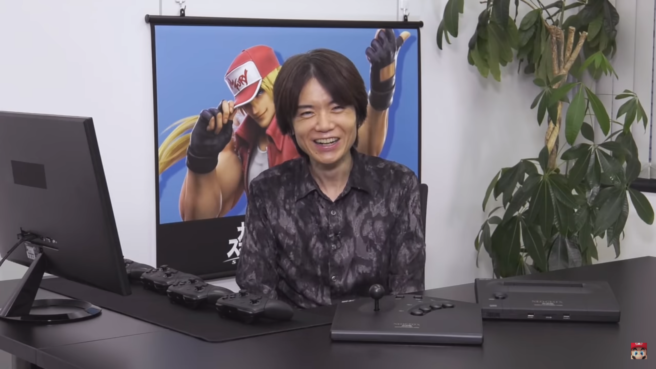 In this week's issue of Famitsu, Masahiro Sakurai has published his latest column. In this article, Sakurai addresses the sales of Super Smash Bros. Ultimate surpassing Street Fighter II in a very humble and logical way. He then discusses the legacy of Street Fighter II, and Smash's appeal in direct opposition to the fighting game genre.
We've prepared a full translation below the break.
Many sites have reported recently that Super Smash Bros. Ultimate has surpassed Street Fighter II in worldwide sales and has become the number one fighting game. I was quite surprised by the news – it felt like something unthinkable had happened!

There might be some heavy discussion of whether or not Smash Bros. is considered a fighting game in Japan, as it's officially classified as a Battle Action Game*. However, it's considered a Fighting Game overseas. The articles mentioned before were from overseas, so their interpretation is accurate.

*Translator's Note: There is no official English term for the equivalent of this genre. Games that fall under this genre in Japan are often multiplayer and have PvP elements.

But apart from that, I think the combined interpretation can be identified as follows. Street Fighter II has a vast amount of differing versions. Even when only considering the main entries, there's five: Street Fighter II: The World Warrior, Street Fighter II': Champion Edition, Street Fighter II' Turbo: Hyper Fighting, Super Street Fighter II: The New Challengers and Super Street Fighter II Turbo. There are versions that were different for adding things like tournament modes, too. Including the updated ports and such, it's a game that spans at least 25 different releases. And it seems like factoring in the arcade cabinets and Anniversary Collection as part of the sales is impossible. It's up to each person where they draw the line on what constitutes a single game title.

In contrast to that, Smash Ultimate is just a single release on the Nintendo Switch. Individuals aren't buying tons of copies each, so it's clear that it's making several records as a single title. Considering the game is expected to continue selling well, and based on the specific rules used for calculating sales, it's unmistakably the best-selling fighting game.

Though it may have surpassed it in sales figures, as far as I'm concerned, the king of fighting games will continue to be Street Fighter II.

Street Fighter II is magnificent. Countless fighting games have followed in its footsteps. You can't say that there isn't at least some small detail in every fighting game that hasn't been influenced by Street Fighter II – even Smash Bros.

We recently released Terry Bogard as a DLC fighter, and we included command-based inputs for him like in regular fighting games. It certainly turned out interesting to include that extra layer of difficulty. Also worth mentioning is that Super Smash Bros. Ultimate has been flourishing in the eSports community. It has the highest popularity at every fighting gaming tournament. The battles that unfold at those events require the utmost skill and complex handling from players.

However, that style of playing Smash Bros. is only one aspect. Playing online with a ton of famous characters is also only one aspect. I presume the main essence of the game is that players can shout like crazy and have a great time battling, while at their respective homes. At times it may seem like a difficult game with a lot of depth, but children aren't swayed against that, and they know that they can play it on their own accord, too.

We originally planned to make Smash Bros. a game with new rules, in direct opposition to fighting games with overly complex characters. Fighting games with a myriad of different strategies are the most fun when the player really understand the mechanics, but the game loses its universality once you really get to the bottom of those strategies. So we set out to create a game that could be played easily and had a party approach to it. We were then able to attract a lot of players as a result.

I will be forever thankful that this game, born from a completely baffling proposition, has now reached the top of its genre. I may have been the one to come up with the plans, but the success is not thanks to me—it's thanks to all of the people who have collaborated on and supported the games. I'm truly grateful, and I'll keep up my hard work.
---
Translation provided by Oni Dino on behalf of Nintendo Everything.
If you use any of this translation, please be sure to source Nintendo Everything. Do not copy its full contents.
Leave a Reply