Sakurai on how he's playing Smash Bros. Ultimate, creating entertainment, more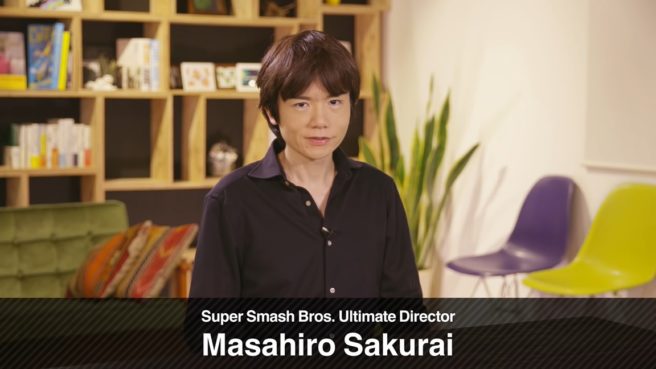 Super Smash Bros. Ultimate director Masahiro Sakurai published a new column in this week's issue of Famitsu. While there was some talk about the Switch game, Sakurai touched on a few other interesting topics as well.
In his piece, Sakurai started out by writing about a couple of games he's been playing. He also discussed his own personal way of playing Smash Bros. Ultimate at the moment, and thanked fans for their support having sold 5 million copies in its first week. The piece also brings up creating entertainment, regrets, and the Japanese games industry.
Here's a full translation of the column:
Happy new year! I say that, but… This was actually written at the end of the year. I haven't taken a huge end-of-project break, and I haven't traveled anywhere; rather, I took a three-day weekend over Christmas… And Dragon Quest Builders 2 took up all that time!!

I've been playing through games as diligently as ever – I recently finished Judgment. In terms of Japanese games, it's worth considerable merit being the contemporary drama that it is; each character stood well on their own, it had its charm.

And then there's DQ Builders 2… I've been waiting for it! It's a dangerous game though, I could get caught up in mining or prepping the soil forever! It just isn't possible to finish the game without getting sidetracked at some point. I wonder if it'd be the one thing I'd take to a desert island… Only if it were completely empty, though.

Aside from all of that, I've been playing Smash Bros. on-and-off too. Of course, I was able to fiddle around with it here and there during development, and I still play it with the rest of the staff during our lunch breaks. That being said, I'm still able to enjoy it as it is on my own Switch back at home. I spend my days sending my spirits out to scour for resources, sending them to training Dojos, and leveling up any Legend class spirits I have. In the long run, I plan to play until I've collected every spirit; other games take priority, though, so I'm making my way through it all at a leisurely pace.

I feel like it's typical for a creator to not want to view their game like a product. There are a few cases where I don't enjoy playing what I've made, though. About a year ago this came up at a talk I was at, and I got to hear a lot of other developers' thoughts on it. Of course, there's going to be regrets on the development side of things, not everything always goes according to plan. Even I have bitter memories that come back to me from time to time; there are quite few things that I couldn't think back fondly on even if I wanted to.

Well, there's no sense in worrying about things you can't change; the games I've made are fun enough to play.

Super Smash Bros. Ultimate sold over 5 million copies in its first week – that's the most of any of Nintendo's games for home consoles. I deeply appreciate the developers and fans of each title, and of course, the players. Again, thank you so much.

I intend to do as much as I can with this Smash Bros – the source of all this endurance being me seeing how amazing other games are! In order for the development scene in Japan to compete with the rest of the world, doing a little just isn't enough. We're pushing ourselves to the limit here. In terms of both teams and creative manpower, competition is inevitable, isn't it? The games I mentioned earlier in the column took a lot to make, and they're actually fun – I can really appreciate that.

That isn't just limited to games, either, though. There are a lot of hands involved in the creation process in a variety of sectors in the entertainment industry, like films, for instance. And the people who are taken with these products' charm since they were kids end up on the development side of things. And thanks to that, it's a lot easier for us to enjoy things that have a lot of work put into them – like games and movies. I have a deep appreciation for the production side of it all, so I tend to end up enjoying other products too much.

I'm only one of the many hands involved in the industry, and I'm doing my best at what I'm working on now – I wanted to try my hand at writing at down my aspirations. And with that, have a great new year!
---
Translation by provided by Nico Thaxton on behalf of Nintendo Everything
If you use any of this translation, please be sure to source Nintendo Everything. Do not copy its full contents.
Leave a Reply