Sakurai on Minecraft in Smash Bros. Ultimate, making Steve complex, breaking Twitter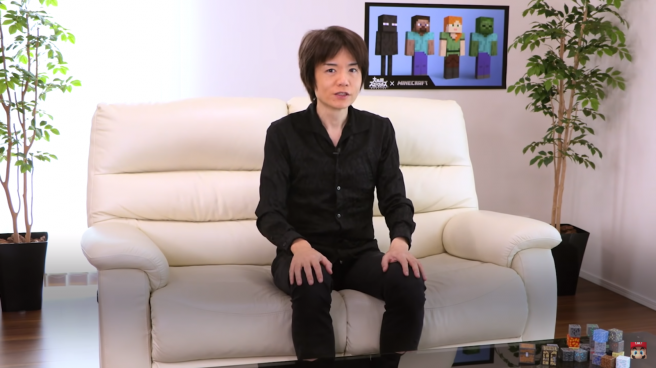 In his 651st column for Famitsu, Super Smash Bros. Ultimate director Masahiro Sakurai discussed the new DLC for Minecraft's Steve. Sakurai apparently had several challenges with implementing the fighter – despite the popularity of the character, he did not want Steve to be a watered-down addition to the roster. Though he kept it vague, Sakurai also stated the music for Minecraft gave the team quite the headache.
Check below for the column's full translation by Nintendo Everything's Oni Dino.
On October 1, 2020, at 11:00 p.m. (JST) Twitter broke in Japan, North America, and Europe. You couldn't post or view anything for a while. After it cleared up, though, we received an amazing response from people around the world.

And now Minecraft has come to Smash Ultimate! The news debuted at the time and date I mentioned; we had never experienced a situation where Nintendo's official account was unable to post follow-up tweets.

By now, the "Mr. Sakurai Presents Steve & Alex" video and the DLC should be live. And players have probably found out all sorts of new ways to fight with them. I sure hope there haven't been any bugs…

Many moons ago, I was asked if I could put Minecraft in Smash Ultimate somehow. It was a pretty crazy idea, based on the original game, but at least the fighters and the stages were easy to come up with. It was all easy to consider and I'd say I understood the source material well enough. However, the closer we made things to be like Minecraft, the more difficult it was to create, and the further away we got from making it all work. But what we ended up producing is a fighter that has interesting quirks, can hold his own with other fighters, and retains his original appeal. That fighter is Steve.

Even though this is also a character from Microsoft, it's a totally different development company and department than Banjo & Kazooie. When we presented the idea to Microsoft, they were very pleased with it.

I don't think beginners will be able to handle Steve very well. That's something they'll have to work up to. You'd think that since Minecraft has such a broad fanbase, the barrier for entry should be as low as possible, right? Not so. In my opinion, watering an original character down, making them less interesting, and turning them into a mediocre fighter is unbearable. Also, if you think about it, Minecraft itself is a pretty complex game. So, I was determined to take those unique characteristics head on.

The four new characters are Steve, Alex, Zombie, and Enderman. Zombie and Enderman are treated like color variants, with no difference in features. We introduced the new concept of material counts and kept the main elements from Minecraft intact. Steve's specials are mining, crafting, and block creation, while his other attacks are also adapted from his original game. For the stage, we're using the biome concept from Minecraft, too.

I was actually looking for a way that would allow users to create their own stages in Minecraft, then import that data into Smash Ultimate… but I gave up on it early on. As expected, it was impossible.

The music production was our biggest challenge in the entirety of the Smash Bros series yet. For various reasons, we couldn't use songs from the original game! There were a few songs that we had to abandon during the arrangement process. However, thanks to the hard work of our musicians, we retained that Minecraft feel to the music and I think everything turned out really well.

We also worked hard on the debut video for Steve. It was worth all the trouble seeing how much fans have enjoyed it.

Recording for the "Mr. Sakurai Presents Steve & Alex" video was pretty tough, too. There were so many aspects to cover! It was a very memorable experience, including the things that didn't go particularly well.

And that pretty much sums it up – for the sake of the magazine. All aspects of development continue despite the stress of coronavirus sweeping society. Still, it's a blessing to be able to work on such a wide variety of content, and that's what really keeps me moving forward.
Despite Sakurai's Minecraft hopes, there was a bug with Steve that got patched. There's also the now-infamous victory screen of Steve and his meat, but things are going smoothly now. The Minecraft DLC for Super Smash Bros. Ultimate is available now.
---
Translation provided by Oni Dino on behalf of Nintendo Everything.
If you use any of this translation, please be sure to source Nintendo Everything. Do not copy its full contents.
Leave a Reply