Sakurai on Smash Bros. Ultimate fighter selections, his role, future of the series, more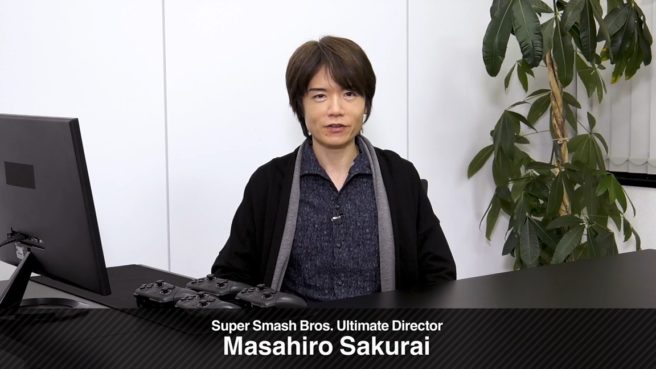 As mentioned earlier this week, Super Smash Bros. Ultimate director Masahiro Sakurai has published his newest column in the latest issue of Famitsu. In the article, Sakurai talks about the Fighters Pass Vol. 2 and the eventual end of DLC, how he does not handle whom is chosen to be a fighter, his role, the future of the series after Ultimate, and more.
We've prepared a full translation of the column below the break.
Although I'm late to the party, considering the date of publication, I'm happy to say we'll be adding six new fighters to "Super Smash Bros. Ultimate" via DLC. Just like before, we'll be bundling them together with stages and music – the party doesn't stop! Though we've decided to make six more pieces of DLC, we do not have any plans to make more than that. My work on "Super Smash Bros. Ultimate" will come to a close once those six fighters have been distributed.

Even though I talked about this more than one year ago when the first DLC was in production, I'll mention it again. The question of, "Who's going to be added to Smash?" has become the talk of fans all over the world, however, I do not decide whom will be added. My position is to receive requests and proposals firstly from Nintendo. I could refuse if we don't reach an agreement, since there are always discussions on what I think of the proposal, however I at least do not get hung up on some game idea and cancel the proposal. Extending the game's length means that the goalpost keeps moving further and further away to me.

It goes without saying that perseverance is necessary when managing the same project for a long period of time. There will be usual patterns to some extent in any project that involves some kind of management, but I'm not stuck in a rut because I continue to work on the same title – rather, I'm discovering new experiences and entertainment.

For example, that means while I'm thinking about the progress of the "Dragon Quest" DLC, I'm thinking about how to reveal the SNK stuff in an effective way! This job, I tell you – there really is nothing else like it. It's a job where I get to condense my experiences, knowledge and studies of the history of gaming in real time… It's an especially perfect fit for me. It goes without saying, but I'll say it anyway: it's truly an honor.

I can't work on another project at the same time that I'm on this production, though. That means that my future of releasing a brand new game that I've directed is diminishing over time, but I'm fine with that.

I've never been the type who feels a personal need to direct or to create something brand new. Basically, I just try to create something that will make people other than myself happy. If I didn't, then I never would have made "Kirby", which was created with beginners in mind. And regardless, I'm happy with the new fighters in "Smash Bros.", the reactions to us exceeding the limits of a single game and its ripple effect.

People all over the world have multiple roles, and there are a wide variety of roles within the narrow scope of video game production, too. Out of those, my role that I'm tasked with is to make an ensemble of various titles and excite people about it each and every time. With that said, I have no choice but to push onward, right?

I can't say definitively that the possibility of the Smash Bros. series continuing doesn't exist moving forward. After all, [the series has] overcome the difficulty of surviving even up until now. However, neither I nor the people in charge at Nintendo are thinking about future plans at all. Going all in by adding new content at once would be an ill-advised plan for the future. Instead, we can extend the life of the game by gradually adding more content.

And that's why these upcoming six fighters are going to be extravagant additions. Suppose a new "Smash Bros." game comes out in the near future, it doesn't need to have the same amount of fighters as this game does. I hope everyone can always enjoy this game for what it is.
---
Translation provided by Oni Dino on behalf of Nintendo Everything.
If you use any of this translation, please be sure to source Nintendo Everything. Do not copy its full contents.
Leave a Reply