Senran Kagura 2: Deep Crimson heading overseas this summer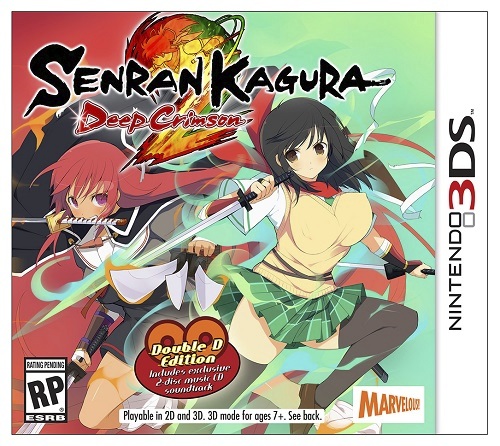 Senran Kagura 2: Deep Crimson is coming to North America and Europe this summer, XSEED Games and Marvelous have announced.
In North America, XSEED intends to release Senran Kagura 2 both physically and digitally (first title was eShop-only). There will be a limited run "Double D" retail release, which comes with a two-disc soundtrack.
Marvelous will be publishing Senran Kagura 2 in Europe – also as a physical and downloadable product. Several special limited edition versions will be sold exclusively through the company's dedicated site, all of which can be found here.
We've included a bunch of (Japanese) screenshots and art below. You'll also find a rundown of features after the break, along with the game's opening movie and a gameplay video.
Pair Battles – For the first time ever, two shinobi warriors from opposing academies must fight together, and the dual character combo system allows for spectacular and devastating joint attacks.

Improved graphics and stellar audio -The graphical improvement from 'Burst' is dramatic, with full 3D environments, improved animations and a better framerate! This is combined with original Japanese voice-overs to create a gorgeous experience all-round.

Local & Nintendo WiFi Co-op mode – For the first time in the series, two players will be able to join forces and play the story or special missions together via ad hoc multiplayer or online.

Improved Dressing Room – The dressing room is stocked with hundreds of items, and this time up to two shinobi can be present in the dressing room at once! Also, for the very first time in the series you can pose the girls in a variety of positions, and even pose them in real life environments using the Nintendo 3DS' built-in camera!
Source: XSEED / Marvelous PR
Leave a Reply