September 2021 Nintendo Direct live stream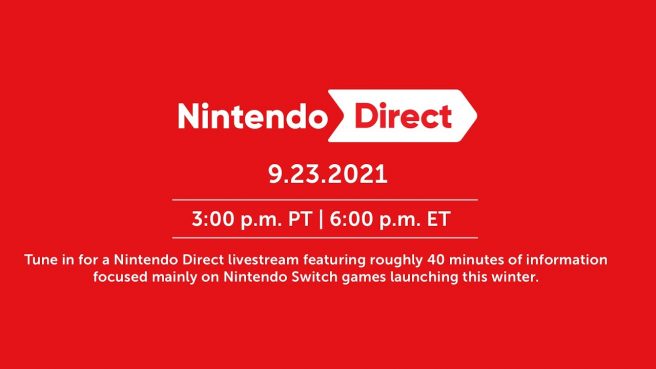 Today's September 2021 Nintendo Direct will be starting soon, and we have a live stream ready to go for the event. In fact, we're including three separate streams for North America, Europe, and Japan.
The broadcast officially begins at 3 PM PT / 6 PM ET / 11 PM in the UK / 12 AM in Europe. It will focus on Switch games launching this winter, lasting about 40 minutes.
We've set up the September 2021 Nintendo Direct live stream for you below along with a live blog. Expect coverage during and after the event.
Live streams
Live blog
Monster Hunter Rise: Sunbreak announced for Summer 2022
Expansion for Monster Hunter Rise
New stories
Locales
Monsters
Questing actions and ranks
Mario Party Superstars
Woody Woods board returning
Yoshi's Tropical Island board
Day and Night settings return in Horrorland board
Mt. Minigames feature minigames only, online multiplayer, co-op multiplayer "Tag Match" with 7 courses
All boards and courses allow for online play
Arrives October 29, Pre-orders open now
Voice of Cards: The Isle Dragon Roars
Card based RPG
Protagonists, shops, towns, and environments represented by cards
Turn based combat
Arrives October 28, pre-orders and free demo available today
Disco Elysium: The Final Cut
RPG coming to Switch
Choices and behaviors impact story and player progression
Arrives on November 12 digitally, physical version available in 2022, pre orders open now
Hyrule Warriors: Age of Calamity
Expansion Pass content
Wave 2 – Guardian of Remembrance available October 29
Chocobo GP
Final Fantasy themed cart racer
Features items and special abilities
Engine customization
Local and online Multiplayer
Up to 64 players can compete in a bracket tournament
Arrives 2022
Super Smash Brothers Ultimate
Final Sakurai Presents on October 5th, will reveal new fighter, final presentation
Kirby and the Forgotten Land
3D platformer gameplay
Copy abilities still present
Arriving Spring 2022
Abandoned civilization setting
Animal Crossing New Horizons
The Roost Cafe
Direct scheduled for October going over more details
Content arriving in November
Mario Golf Super Rush
Koopa Troopa and Ninji playable characters announced
Two new courses
Arriving as a free update today
Disney Magical World 2 Enchanted Edition
Includes all DLC
Arrives this Winter
Star Wars: Knights of the Old Republic
Port coming to Switch November 11, pre orders now open
Dying Light 2 Stay Human – Cloud Version
Open world action RPG
Up to 3 other players in online co-op play
Arrives February 4 2022 with demo
Dying Light Platinum Edition
Open world
October 19th release
Pre orders now
Triangle Strategy
Gameplay adjusted in response to feedback
Improved cameras
Improved visuals
Improved gameflow and loading times
Replay dialogue
Arrives March 4, 2022
Pre orders available now
Metroid Dread
2D traditional Metroid gameplay
New overview offers story details
Planet ZDR divided into multiple environments with different elements and enemies
Chozo home planet
Metroid Dread Report Volume 8 available now
Coming October 8
Nintendo Switch Online
New membership plan available
Nintendo 64 games, including Star Fox 64, Mario Kart 64, Ocarina of Time, and more
Some games have up to 4 players locally or online
Sega Genesis collection including Echo the Dolphin, Sonic, Golden Axe and more
These will be included in the new membership plan coming in Late October, "Nintendo Switch Online + Expansion Pass"
Existing memberships can be switched over
F-Zero X and Majora's Mask planned for the future, along with other titles
Nintendo Switch compatible N64 and Genesis controllers will be available for NSO members for $49.99 each
Shadowunner Trilogy
Sci-fi fantasy RPG collection
Turn based
Coming next year
Castlevania Advance Collection
Includes 4 games with extra features, control settings, and gallery viewer
Arrives today
Actraiser Renaissance
Remastered classic game
Includes side scrolling "action phase" and top down world builder "Creation Phase"
Includes original and remade soundtracks
Arrives today
Deltarune Chapter 2
Free update to Deltarune Chapter 1
Hotwheels Unleashed coming September 30
Surviving the Aftermath coming Holiday 2021
Shin Megami Tensei V pre orders open today
Wreckfest coming this Fall
Archade archives Pac Man
Rune Factory 5 coming March 2022
Mario Movie announcement
Will arrive in Holiday 2022, December 21 in North America, other regions to be confirmed
Mario will be voiced by Chris Pratt, will be talkative
Anya Taylor-Joy is playing Princess PEach
Charlie Day playing Luigi
Jack Black playing Bowser
Keegan-Michael Key playing Toad
Seth Rogan playing Donkey Kong
Charles Martinet is involved with surprise cameos
Kamek, Cranky Kong, and Spike also included
Splatoon 3
First look at a new map
New gadgets
New movement abilities
Story teased with single player mode, new bosses and environments
Return of the Mammalians
Takes place in Splatsville "City of Chaos", surrounded by Splatlands
Turf War returning, two 4-player teams
New changes involving Main and Special weapons
Story mode's theme is the "Return of Mammalians"
More updates to come
Scheduled to release in 2022
Bayonetta 3
Gameplay trailer shown
3D beat em up combo gameplay returns
Coming in 2022
---
You can keep track of all previous Nintendo Direct news here. The official site is also up here.
Leave a Reply