September 2022 Nintendo Direct live stream, live blog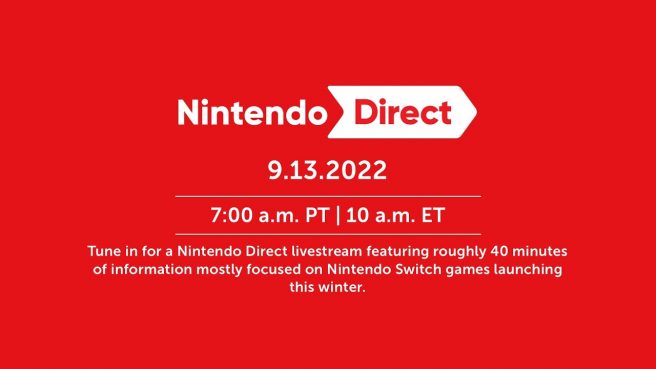 A big September 2022 Nintendo Direct is upon us, and we have both a live stream and live blog ready to go. The fun begins at 7 AM PT / 10 AM ET / 3 PM in the UK / 4 PM in Europe. Note that there will not be a live stream in the UK, but it will go up as a video-on-demand following the broadcast, any viewers in the region can simply watch the North American counterpart.
Today's Nintendo Direct will last about 40 minutes. Expect it to mainly focus on games launching on Switch this winter.
Here's where you can watch the September 2022 Nintendo Direct live stream:
Live streams (North America, Japan)
Live blog
The Nintendo Direct has now begun, with Fire Emblem on screen with references to the Binding Blade and the Fel Dragon. Various characters are shown from past games, and the title is shown to be Fire Emblem ENGAGE.
Fire Emblem Engage is a standard turn-based tactical RPG. Players seem to be able to pair off characters into teams as a new mechanic. The main character is charged with bringing peace to the realm of Elias. Release date 1.20.2023 – A special Divine Edition will be available.
Two-player platformer It Takes Two releases November 4th, available for preorder now.
Fatal Frame: Mask of the Lunar Eclipse releases Early 2023
Xenoblade Chronicles 3 – DLC Wave 2 arrives soon with a new Hero, Ino, as well as challenge battles. Special outfits and accessories will be available. Wave arrives October 13th.
SpongeBob SquarePants: The Cosmic Shake arrives next year.
Fitness Boxing: Fist of the North Star launches 2023 — The coaches are various characters from Fist of the North Star.
Oddballers arrives early Next Year.
Starring a young fox, Tunic launches September 27th
Front Mission Remake detailed, shows models and UI, introduces colliseum. Shows Front Mission 2 is included. Available this November, but FM2 will be next year, and Front Mission 3 is announced.
Story of Seasons: A Wonderful Life – not sure if remake. Many returning characters, children and aging are confirmed.
Splatfest detailed for this month, updates announced for Splatoon 3.
Square Enix's HD-2D style – Octopath Traveller II announced. Path actions are now different in day and night. Launches 2.24.2023
Fae Farm, a simulation RPG with magical spells allows you to grow crops and explore dungeons, fighting monsters on the way. This fairytale farmstead allows for online and local multiplayer, as well as Animal-Crossing like interior decorating.
Theatrhythm – Final Bar Line – over 200 songs, 2.26.2023 — will have DLC from SaGa, Nier, Octopath. LiveALive over 90 songs.
Mario + Rabbids: Sparks of Hope details shown about the various Sparks and how they can turn the tide of battle. Gold Edition detailed.
Rune Factory 3 SPECIAL announced for next year. New series in development
New N64 games announced for online.
Pilotwings 64
Mario Party 1, 2, 3
Pokemon Stadium 1 &2
1080 Snowboarding
Excitebike 64
ONE MORE GAME — GoldenEye
Various Daylife coming to Switch from Square Enix. Game hosts a huge roster of characters and launches TODAY.
Factorio announced. 10.28 release.
Mario Strikers update adds Diddy Kong
Atelier Ryza 3: Alchemist of the End and the Secret Key announced – 11 heroes total, alchemy system for battles shown. All new features, 2.24.2023
Wave 3 of Mario Kart 8 Deluxe DLC shown, available this Holiday season.
Nintendo Switch Sports – Golf shown. Online play up to 8 players. Update available for free this Holiday.
Shigeru Miyamoto is now on screen. Super Mario movie is mentioned as launching this spring. California Super Nintendo World mentioned. Pikmin Bloom shown. Introduces the game showing the player using GPS like Pokemon GO, goes into basics of game and how to play.
Pikmin 4 revealed for 2023.
Just Dance 2023 Edition has recommendations and new mode. 11.22
Harvestella shown. Demo available later today in the eShop. Save data to be transferable. Full game 11.4
Bayonetta 3 – Homonculi enemies shown. Luka, Jean, and Viola shown to join in. 10.28. Preorders open now. Trailer will be on YouTube after this presentation.
Master Detective Archives: Raincode – introduces character, player is a detective at a crime agency. Includes combat and puzzles. Spring 2023
Resident Evil Village Cloud announced. 10.28 Free demo out now.
Resident Evil: Biohazard, 2, and 3 will also be coming to Cloud.
11.8 Xifu
Crisis Core Remastered shows off updated combat system. 12/13 release
Radiant Silvergun for Switch available today.
Endless Dungeon from SEGA shown. Roguelike allows 3 player online multiplayer. Launches 2023.
Tales of Symphonia Remastered revealed for 2023.
Life is Strange: Arcadia Bay Edition
Romancing SaGa – Minstrel Song
LEGO Bricktales – Fall 2022
Disney Speedstorm – 2022
Fall Guys Season 2 9/15
Kirby's Return to Dream Land DELUXE – Mecha copy ability debut. Local play up to 4 players on same system. Subgames available. Up to 4 players for these, as well. 2.24.2023 release
Last announcement: The Legend of Zelda: Tears of the Kingdom launches 5.12.2023
Leave a Reply