Shovel Knight will be in Yooka-Laylee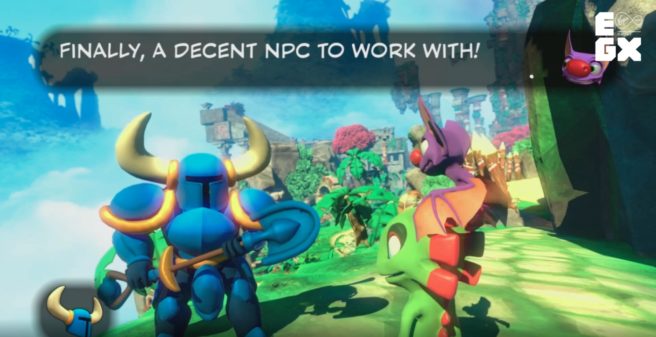 During a developer panel at EGX just a few moments ago, a new trailer was shown for Yooka-Laylee. It's been revealed that Shovel Knight will be joining the game as a special guest character.
Here's the video:
Playtonic and Team17, who is working with Playtonic on Yooka-Laylee, discussed the idea of featuring a guest character. Playtonic then turned to Yacht Club Games' Shovel Knight after thinking about how it was a "much-loved game" with a team that "shares the same kinds of values we do as developers and has created something fantastic in the past". It was also important to include a character that could appear on all platforms.
Shovel Knight's way of speaking in Yooka-Laylee will be "authentic". After receiving an explanation and practicing on a Skype call, Yacht Club went through the steps of how Playtonic creates the mumbling voices, and the result was added to the title directly.
Playtonic also indicated that there aren't any other guest characters in Yooka-Laylee, but the studio is open to the idea.
Leave a Reply