Lots of Smash Bros. tidbits from Sakurai – DLC talk, Goku unlikely, not thinking about another ballot, more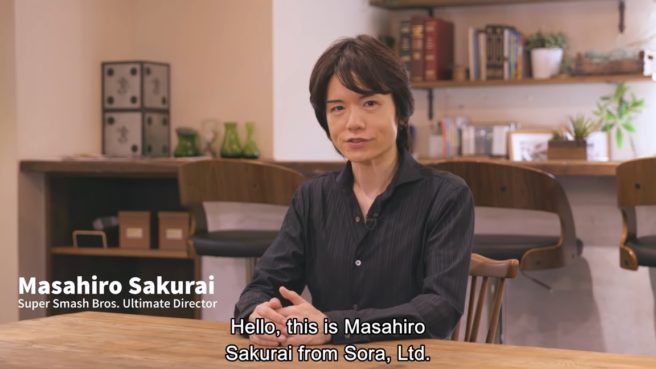 Super Smash Bros. Ultimate director Masahiro Sakurai recently released a new book in Japan. It's largely a compilation of columns previously published in Famitsu, along with some extra tidbits. Naturally there was quite a substantial amount of Smash Bros. material in there.
Ayumi Tachibana has rounded up some of the more noteworthy tidbits from the book. He discussed DLC and said that popular characters like Goku are unlikely to happen, stated that there probably won't be another Smash Bros. Ballot, and more.
Here's the full roundup:
– He knows some are serious, but he doesn't think characters like Ironman and Goku will happen. (p27)
– DLC could say shortening the life span of its franchise. For Smash those characters could join in next time. But Smash is also not a title to think about continuation so doing his best every time. (p27)
– He wants Smash to be more casual and see non-competitive tournaments. Smash is a party game. But he also knows he is not the one to plan those. (p31)
– In Smash for days, there was restriction of a time span to offer updates and 3DS had a limited number of times to update. So Wii U version had to do the same. This is why Lucas, Roy, and Ryu released at the same time. (p33)
– If it's a one time purchase type of game, then it's more efficient for the company to start making the next game than keep updating. (p59)
– Updates are normal thing these days, but still they are voluntary service. (p59)
– He always thinks it's important to hear voices from people not speaking up. Real beginners don't speak up. (p61)
– The plan of Smash Ultimate completed December 16th 2015. It's a coincidence, but was the same day of the last Smash for direct. (p63)
– He is not thinking of doing Smash ballot again. It was used in Smash Ultimate's development very much. (p63)
– Beyonetta was the first pick among realisable characters. Above her, there were old veterans like Snake and other characters that were already tried negotiating but got rejected. (p63)
– He was making the plans for Smash Ultimate during the vacation he got after Smash for DLC was done. (p69)
– He treats character's individuality as its own game itself. All the unique systems certain characters has are all newly built just for him/her. (p69)
– It's already had proven true that joining as a character in Smash has advertising effect. (p99)
– He played through beta version of Zelda BotW to the end in 2 days during the Smash Ultimate development because he needed to know how new Link works before anyone else. (p125)
– He thinks games should not be created based on researched data alone and saying games only born to imitate other games are misfortune. Those data should be used for marketings or managements, not to plan new games. Old data are old. (p133)
– (Speaking of Super Nintendo World) 60 billion yen is enough to make every Smash game up to Ultimate and more with couple ten billion of changes. Not many Japanese games have budgets over 10 billion yen. (p139)
– He wish there were Smash Area in Super Nintendo World. (p139)
– Smash Ultimate's DLC wasn't a thing at the time around Famitsu column vol. 546 January 11th 2018, and it was planned without the developers will. (p165)
– DLC developments in general take time, so by the time of the release, the market will be much smaller than it used to be. DLC business is very risky than people might think. (p165)
– They are not something sell that much so it's difficult to gather staffs. Sometimes better to move on to the next game. (p165)
– He is not fond of the idea of the season pass. Its a little scary to buy without knowing the contents. (p165)
– Omega and battlefield for every stages take a lot more work than people might think. (p187)
– HAL Laboratory, Inc. is still on the credits list, but not involved in the development anymore. (p188)
– If you think about the completion of the development, bringing back everyone is not something you should do. (p189)
– The team was very careful of leaks at E3 2018. They didn't use printed promotional materials to avoid leaks. "Everyone is here" wasn't known even in Nintendo so the when it happened Nintendo staffs were also screaming. (p190)
– Smash tend to have characters from older series. But just old characters wouldn't make Smash worthy. If there is no new series, then the selection of the characters will be from the old series. (p199)
– People say "why they can't do this easy stuff?" but there is always a reason for that, One correction could cause another bug. (p205)
– The story idea of World of Light was already existed since Smash Brawl. (p208)
– He doesn't follow internets reaction so didn't know all the fan predictions. (p209)
– The idea of the Spirits is kind of the last resort. He is not sure he'll be making another gameplay like the Spirits. (p211)
– There was a plan to include a map like the Spirits to the Adventure Mode in Smash Melee. (p211)
– He said he took a long vacation, but actually he was just taking breaks as the calendar goes. He has a cat so he can't go for a long trip. (p214)
– By the time of the end of March 2019, the online win ratio of every character are very close to each other at the point he almost thinks better not to change anymore. (p216)
– There are metas, so just certain characters were strong at that time is not good enough reason to make them change. (p216)
Leave a Reply