Smash Bros. Wii U/3DS version 1.1.6 – roundup of Bayonetta changes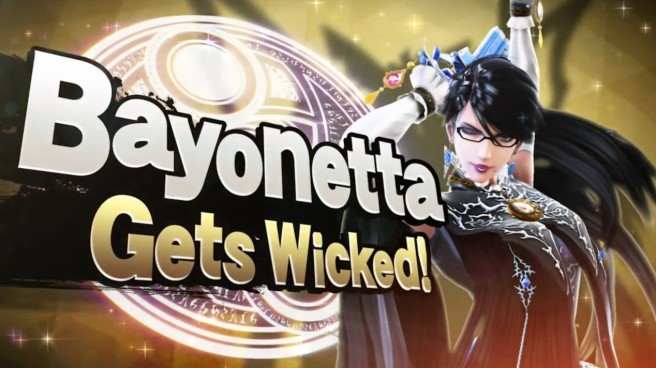 Last night, news pertaining to the 1.1.6 Smash Bros. Wii U/3DS began to emerge. We learned that the only character affected by the patch is none other than Bayonetta.
thatsmash4moddr and Smashboards have since compiled the lineup of changes associated with Bayonetta. Find the full breakdown below.
Dtilt
Fair

Hit 1 damage 3.8 -> 3
Hit 2 damage 2.8 -> 2.2
Hit 3 KBG 82 -> 68, x1.2 frame speed multiplier added to frame 29 (presumably means 1f later autocancel/2f later FAF, but these don't always translate to ingame as expected)

Dair landing
Afterburner Kick

All hitboxes: SDI multiplier 1 -> 2
Early hit KBG: 40 -> 50
Middle hit KBG: 30 -> 38
Late hit KBG 100 -> 112

Afterburner Divekick

Damage 8 -> 6.5
Angle 80° -> 60°
Hitbox size 6.5 -> 4.5
SDI multiplier 1 -> 2

Afterburner Divekick landing
Witch Twist

All hitboxes: SDI multiplier 1 -> 2
Early middle hit

Upper hitbox KBG/WKB 100g/160w -> 97g/140w
Upper hitbox Ypos 24 -> 21
Both hitbox sizes 8 -> 7

Middle middle hit

Upper hitbox Ypos 24 -> 21
Both hitbox sizes 8 -> 7

Late middle hit

Upper hitbox Ypos 24 -> 21
Lower hitbox WKB 160 -> 135
Both hitbox sizes 8 -> 7

Last hit (first use)

KBG/BKB 105g/50b -> 80g/55b
Hitbox size 9 -> 8.5
Y'pos 20 -> 19

Last hit (second use)

KBG 30 -> 50
Hitbox size 9 -> 8.5
Y'pos 20 -> 19
Leave a Reply