Sonic Boom: Rise of Lyric producer reflects on the game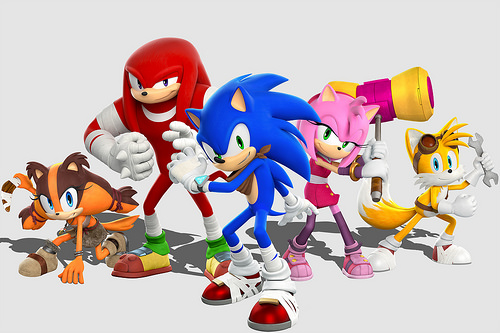 A new podcast from SegaNerds contains an interview with Sonic Boom: Rise of Lyric producer Stephen Frost. You can listen to it in full here, though Sonic Stadium has rounded up some of the more interesting bits.
Frost touched on Sonic Boom's development, and a few other topics as well. Here's the full summary:
Suggestion that Sonic had to re-invent itself because the fanbase was getting smaller. Cites Call of Duty as an example/comparison.
Boom was made to appeal to non Sonic fans. — This is stated multiple times.
Suggestion that people/retailers are bored of Classic – Dreamcast era Sonic. States you can only do so much with these eras/characters. He does go on to suggest this is from a retailer standpoint.
Claims multiple times that Boom (franchise) is a big success.
Admits Boom (franchise) could have been better.
"Could the games have been better… yes, any game can be made better."
Suggestion that part of the reason why Boom (game) isn't that good is because the team didn't know what Sonic was about/lack of experience.
"In focus tests, we heard all the time, people were sick of speed, Sonic was too fast, they wanted to slow down."
"People really liked the Co-Op" — Hopes Sonic Team will do that in the future.
"The biggest mistake in Boom (game) was adding too many features to it.
"It was too much to ask of the/any development team" — In terms of different characters, combat, features etc.
"I was tasked (by Sega) with creating an experience that appeals to an audience which doesn't play Sonic."
"If I could do it again, I would remove features and speed would be the main focus from the start."
"Speed was shelved because we were under the impression people didn't want it."
"Speed is always a Sonic thing, we didn't focus on that."
"The goal of Boom was to reach new people."
"As a branch of Sonic, Boom is a success in many ways."
Suggests that due to how much content you need to make for a Sonic alone game, it's too much work. You need additional characters to spread the burden of content.
"Multiple characters resonate well with people"
"Solo Sonic games, I don't know how long that can last there isn't enough variety to sustain it."
"The future of Sonic games needs to be Co-Op, it worked really well in Sonic Boom, community and online play, that sustains it."
Say's he'd love to see a Sonic level design game.
"In general, you need to do multiplayer and add online multiplayer aspects, that will sustain and keep the franchise alive."
Says that the reason for the change in release date was likely a number of reasons, cartoon air date, Nintendo release dates, Sega release dates.
When the decision was made to change Boom's release date, Sega did not know when Smash was coming out.
Leave a Reply