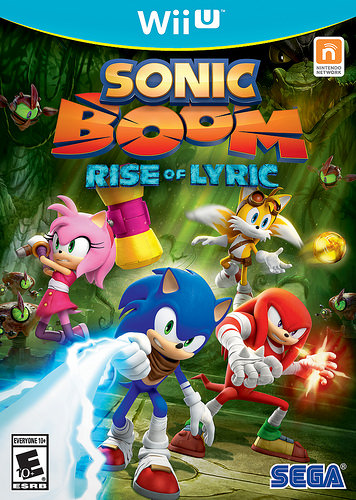 Sonic Boom: Rise of Lyric character animation Tuan Nguyen recently uploaded a demo reel, which features beta hub/animations footage from the game. You can check it out below.
Sonic Boom: Rise of Lyric's update is huge – as in 1GB huge. So what exactly is included in the massive patch? We did hear about a few things recently, but Sonic Stadium has offered further information as to why the update is so big.
Here's what the site shared:
The folks over at Sonic Stadium have put together an overview about the new Sonic Boom: Rise of Lyric update. SEGA just released the patch in Europe this week, and it should be out in North America very soon.
On with the information!
Additions:

Navigation arrows "Small yellow arrows added which show you where to go" (They were in the original, but they now have some issues).
Sonic Boom: Rise of Lyric has received a new update. It's a sizable download, as it clocks in at roughly 1030MB. We're not sure what the patch does at present, but we do know that Rise of Lyric has been bumped up to version 1.1.0.
On another note, it looks like this update may only be available in Europe at present. It should be out in North America soon if it hasn't already arrived by the time you're reading this.
21st November 2014 – SEGA® and Nintendo of Europe today announced the availability of Sonic Boom: Shattered Crystal for Nintendo 2DS and 3DS and Sonic Boom: Rise of Lyric for Wii U across Europe. These two games are cornerstones of the newly created Sonic Boom universe and expand the Sonic Boom vision for fans. Set in the same world as the Sonic Boom animated TV series, Sonic and team – including new friend Sticks – work together to stop the evil villain Lyric. Play as multiple characters, each with their own abilities, as they explore, fight and speed through an undiscovered land.

The Sonic Boom titles deliver completely different experiences as compared to previous Sonic games with collaborative gameplay at their core – all while featuring speed – the traditional element of Sonic and his adventures. Taking advantage of the innovative hardware of both Wii U and Nintendo 3DS, Sonic Boom introduces exploration, combat and a new Enerbeam gadget that allows the Sonic Boom world to be discovered in totally unique ways. There are also special upgrades for your characters that can be unlocked if you have both games – play through the story mode in Sonic Boom: Shattered Crystal on Nintendo 3DS to unlock specific character upgrades for Sonic Boom: Rise of Lyric on Wii U!

The Nintendo 2DS and 3DS exclusive title, Sonic Boom: Shattered Crystal, was developed by Northern California-based Sanzaru Games Inc. in collaboration with Sonic Team. In Sonic Boom: Shattered Crystal, Amy discovers a secret ancient language and manuscript detailing the history and whereabouts of a ""Lost Crystal of Power". The evil and vile villain, Lyric, kidnaps Amy in his eagerness to obtain the long-forgotten power that has been hidden throughout the jungles and canyons of a mysterious new island – where players can explore a variety of levels with lots to discover and multiple goals to try to accomplish. StreetPass functionality in Sonic Boom: Shattered Crystal allows you to receive tokens which are used in-game to buy collectables when you encounter other players of the game via StreetPass – try to purchase them all!

Sonic Boom: Rise of Lyric, exclusively for Wii U, is an original game developed by Southern California-based studio Big Red Button Entertainment in collaboration with Sonic Team and its head Takashi Iizuka. Sonic Boom: Rise of Lyric stars Sonic and his friends Tails, Knuckles, and Amy, in an adventure that begins when they release a powerful snake-like villain named Lyric from an ancient tomb sealed deep in an island. The group must put aside their differences and work together as a team to save the world from Lyric's evil plan and his army of war mongering robots! Share the adventure with a friend co-operatively in the story mode, or enjoy with up to four friends in "Team Challenges" mode.

Both Sonic Boom: Shattered Crystal and Sonic Boom: Rise of Lyric are out now at retail or digitally from Nintendo eShop, where a free demo of the Nintendo 3DS version is available.

– Ends –

For further information:

Nintendo website http://www.nintendo.co.uk
Nintendo 3DS Guided Tour: http://guidedtour.nintendo.co.uk
Nintendo 3DS (UK) on Facebook https://www.facebook.com/Nintendo3DSUK
Wii U website http://www.nintendo.co.uk/Wii-U/Wii-U-344102.html
Wii U (UK) on Facebook http://facebook.com/WiiU.co.uk
Nintendo of Europe on Twitter https://twitter.com/nintendoeurope
Nintendo UK on Twitter https://twitter.com/nintendouk
Nintendo UK on YouTube http://www.youtube.com/nintendouk
Nintendo Official UK Store http://store.nintendo.co.uk/
Nintendo UK Media Assets Library (registered users only) http://assetslibrary.nintendo.co.uk/
For press assets visit www.sega-press.com