Square Enix on releasing its new SaGa games in the west, new content, more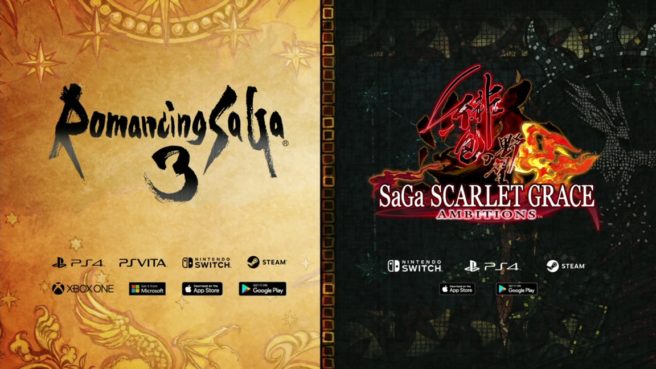 Square Enix delivered a bunch of news at its E3 2019 event earlier this summer. Among the announcements were two titles now confirmed for the west: Romancing SaGa 3 and SaGa Scarlet Grace Ambitions.
Not too long ago, Famitsu spoke with Square Enix's Akitoshi Kawazu and Masanori Ichikawa about the upcoming games. Topics include finally releasing the RPGs in the west, new content for Romancing SaGa 3, and more.
Here's our full translation of the interview:
I think this will be the first time Romancing SaGa 3 and SaGa Scarlet Grace Ambitions will be release in the west. Was their release decided by how well Romancing SaGa 2 was received in that region?

Ichikawa: I'm very grateful for all of those overseas fans that called exhaustively for a release. Kawazu also received a lot of requests, so thanks to that we were able to announce that the next two entries in the series would also come to western markets.

What is it that makes these games so popular overseas?

Kawazu: When the series was gaining popularity in Japan it had still not been in the west, but fans were really taken with the strategical elements of the game, and it seems there were also plenty of players who were so passionate that they played the game in Japanese.

I was surprise at how many elements of the E3 trailer were tagged with 'new'. When some of the users saw 'a new hero' they began speculating that there may be a new protagonist. And then since the back of the emperor was also shown in the trailer, people were also wondering if they might be a playable character. Is that the case? As the emperor in the 'Emperor Saga' game is a woman, I'd like to see a story that digs deeper into a female perspective.

Kawazu: The meaning there was not of a specific new protagonist but that each playthrough, whether the first second or third, gives new perspectives and lets the player be a different type of hero. In Romancing SaGa 3 there are eight protagonists. Those won't change. I'm sorry that this has caused so much confusion. While those eight protagonists won't change, there will be other additions including new dungeons, and we'll be able to talk more about those later.

I feel like the quality of some of the move animations has improved. Have there been any other changes to the art or attack animations?

Ichikawa: The art and attacks on the recently released Romancing SaGa Universe mobile game were improved to give the game a fresh feel, but with the Romancing SaGa 3 remake we are refining the graphics while maintaining that style of the original. Fans should still expect a fresh feel to the game though.

You have mentioned previously that you were having trouble porting over the Army Battle, trading and mini-games. How are those doing now?

Kawazu: We did have a lot of trouble with those elements of the game, but now they have all been completed and development is finally coming to a close.

In terms of the release dates, the overseas version of the games is listed as 'coming soon' while the domestic ones says 'TBA 2019', but I wish we had something a little more concrete. Are you planning on releasing the remaster of Romacing SaGa 3 simultaneously worldwide?

Ichikawa: I'm sorry that I can't give you anything more definite, but I think we'll be able to give ours fans all the details soon. I know you've all been waiting a long time, but please hold out just a little longer.
---
Translation by provided by Corks on behalf of Nintendo Everything
If you use any of this translation, please be sure to source Nintendo Everything. Do not copy its full contents.
Leave a Reply