Streets of Rage 4's Mr. X Nightmare DLC now available on Switch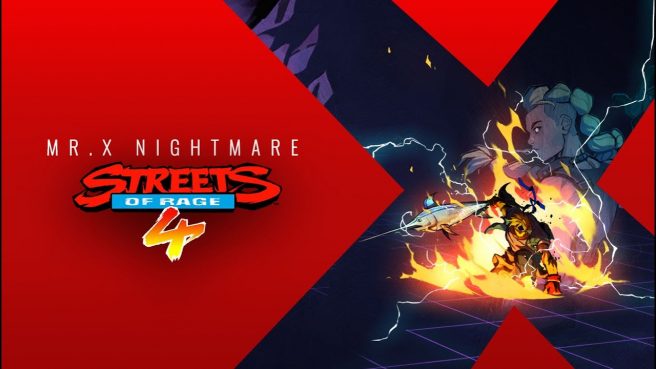 The wait for Streets of Rage 4's new Mr. X Nightmare DLC on Switch is finally over. It was originally planned for release on July 15, but the team ran into unexpected technical issues.
Cyrille Imbert, executive director at Dotemu, said of the delay:
"We want to take this time to first apologize to our Switch players – this should not have happened and we are tremendously sorry to have kept you waiting. We appreciate every single one of you for sticking by us, and can assure that we will work diligently so that this never happens again."
To recap, Mr. X Nightmare includes:
Playable New Fighters: Introducing the playable debut of powerful officer Estel Aguirre, alongside the awaited return of fully realized playable versions of Max Thunder and Shiva, both beloved characters of Streets of Rage 2 & Streets of Rage 3.

Survival Mode: An inventive, immensely replayable challenge where fighters beat down endless waves of foes and earn perks for as long as they can stay alive. The Random version of this mode keeps each fight unpredictable through generated runs, and the Weekly version has a series of static gauntlets generated each week that keeps players on their toes as they brawl their way through the streets of rage and fight for the top spot. Each completed level offers a choice of randomized stackable perks to choose from.

New Moves: Braving Survival's onslaughts also permanently unlocks new moves for use across any of Streets of Rage 4's modes, allowing players to personalize movelists for their favorite characters. Even Retro characters now have new moves.

New Badass Weaponry: Progress unlocks devastating new weapons within an expansive new training mode, as well as gallery content.

Leaderboards Show Who's the Boss: The mode's leaderboards keep track of the community's well-fought runs, too; who will be Wood Oak City's finest fighter?

New Tunes: Keep groovin' with original music from Tee Lopes (Sonic Mania, League of Legends).

And Wait, There's Even Moaaar: Separate free update adding an in-depth training system, color palette options, a fiendish New Mania+ difficulty, plus a wealth of refinements and balancing changes addressing feedback from Streets of Rage 4's passionate community.
Streets of Rage 4's Mr. X Nightmare DLC costs $7.99. Switch owners can currently save 15 percent.
Source: Dotemu PR
Leave a Reply