Suda51 on Travis Strikes Again – development progress and team, the game's crazy backstory, more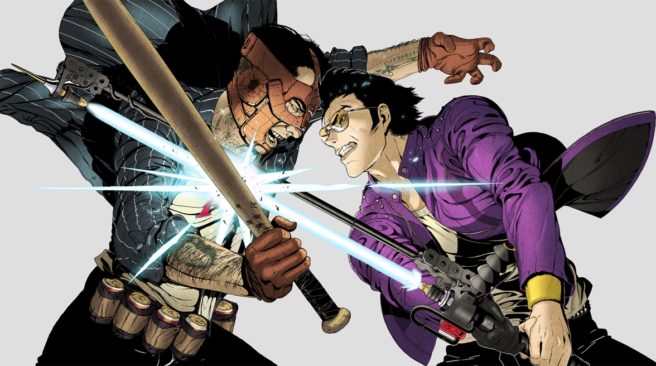 A new expansion of No More Heroes which has been loved from all sides
Famitsu: Travis enters the game world through Death Drive Mk-II. So, what exactly is the reason for that?
Suda51: In the Death Drive Mk-II, it is said that there are six mythical games, and one who can collect all of them can get any wishes granted… I still can't reveal yet what kind of wish Travis is going to make, but if you take a look at the currently published trailer, you can see that he has a fated connection with Badman who seemed to kill his "daughter". Those who have played the past games may think "Could it be…" Also, each of the six game worlds has different genres, for example there's a world that looks like a shooting game. Basically the core of this game is a hearty slash action of hack'n'slashing enemies, just like what we've kept important until now. Each world will also have its own unique boss, so please look forward to the next information batch.
Famitsu: We're also wondering about the work on the art side, such as character designs.
Suda51: For Travis' design, I asked Yusuke Kozaki-san just like before. Travis lives in a trailer house, and a certain amount of years and months has passed since the previous game's story, so his living environment has changed quite a lot, but I'm going to hide the further details.
Badman and the boss characters in the game worlds are being designed by Mr. Boneface, an artist who comes from Liverpool. I saw his art a few years ago and thought, "These are good," so when I tried contacting him, it turned out that he had been playing our company's games, so he also gladly accepted the request for this game.
And for the design of the Death Drive Mk-II console, I asked Hiroki Tsukuda-san who also worked on the design of Death Drive 128 in Let It Die. Actually, there's a setting that Death Drive Mk-II is a prototype that's created long before Death Drive 128. It's a prototype with a hidden danger that [the user] who enters the game world might not be able to return [to the real world], so the console was not released to public, but Travis owns it for some reason. Furthermore, the in-game development of Death Drive Mk-II is done by Doctor Juvenile, and there's also a background that she likes Hiroki Tsukuda-san's works, so I requested the design of the console to him.
Famitsu: Wow, what a background! After hearing about not only the Unreal Engine, but also on the setting of this game, we can no longer know the boundary between the game and reality (laughs).
Suda51: Exactly as you said (laughs). And for the design of the Death Glove, which Travis wears on his left hand while being inside game worlds, I asked Shigeto Koyama-san who had worked on weapon designs and more for past games. I've been saying the names of all designers involved here, but all of them have the skills and popularity, and have been also helping to contribute here. Even though they're very busy, I'm really thankful that they would accept the requests because they have fond memories of No More Heroes. Also, although this game will be both developed and published by Grasshopper Manufacture, we're also receiving full support from Marvelous, who had helped publish our games until the previous game. We're pouring our power into this game while being supported by everyone.
Famitsu: Is development proceeding well?
Suda51: Yes. Next year should be good timing since Nintendo Switch's stock problems should be solved by then, so we're doing our utmost on developing the game right now so that it can be released at that time. Our direct task right now is to make it playable with just one Joy-Con controller and also to make it feel as good as No More Heroes, but there are also many old games that can be played really well even with few buttons, so I think the challenge is worthwhile. Also, this is a serious love call, but in order for Travis to be able to appear in Super Smash Bros. someday, I'd like to have simple controls (laughs).
Famitsu: (Laughs)
Suda51: While the Nintendo Switch is getting more software added, we're developing Travis Strikes Again so that it can be enjoyed by everyone with a hardcore appeal. Just like how all the fans have loved Travis, I also want to hang out with Travis for a long time. This game will be a new step for that, so please look forward to it!
—
Aside from Famitsu's article, Suda51 actually appeared during a couple of live streams with Famitsu to talk further about Travis Strikes Again: No More Heroes. Even more information was shared there.
Badman is trying to revive his daughter Charlotte using the Death ball with a tiger design. He and Travis go into the Death Drive Mk-II game world and will fight together. However, Suda51 didn't want to spoil anymore and avoided saying if they will be a partner or foe.
Badman is ex-major league baseball player and played on various MLB clubs. His career started with the Cardinals, then he moved to the Astros. His final destination was the Red Sox, and you can see that on his costume. Badman was a slugger. He often drank beer from a can and crushed it each time he came into the batter's circle.
Because of his alcoholic behavior, Badman was banned from the baseball scene. He then became an assassin. Suda51 said that all of this information wasn't improvised, and he is seriously working on these sorts of background details.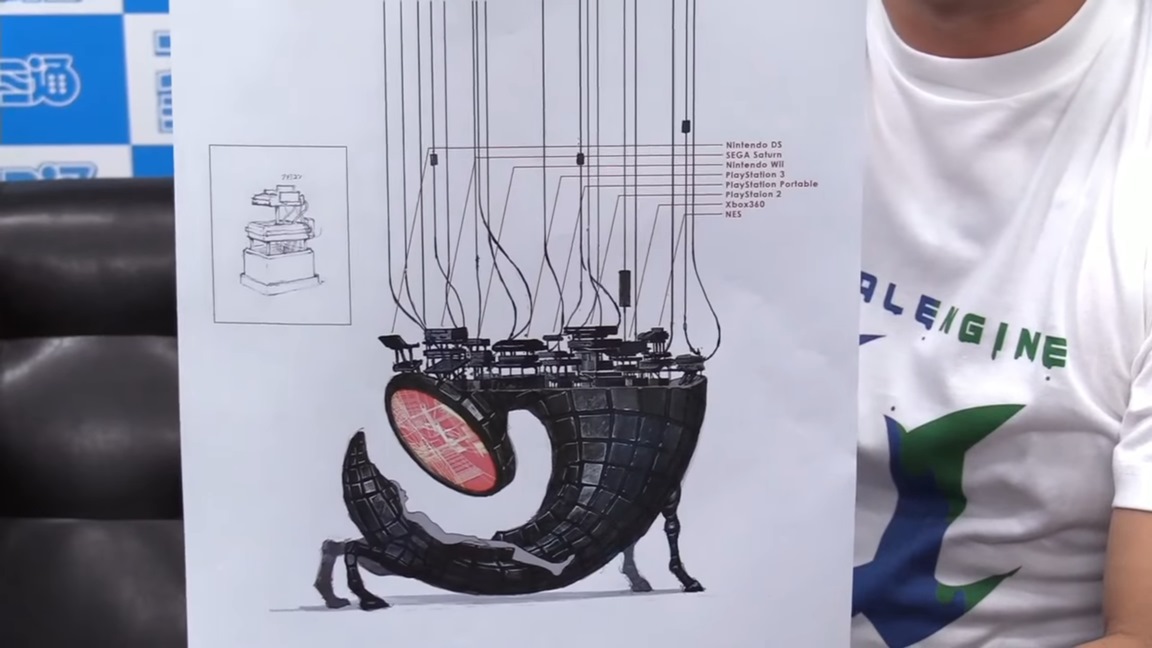 Prototype of the Death Drive Mk1
Strap yourselves in, since the backstory for the Death Drive is about to get really crazy. Suda51 said that, a few years ago, he received an offer from MoMA – the real Museum of Modern Art – to develop a title for anything he would like to make. So he came up with an idea to develop a future arcade.
A design was made and sent to MoMA, but Suda51 got a phone call in which they said, "What the heck is this?" The rest of the exchange went something like:
Suda51: "This is the game."
MoMA: "This isn't a game. What is this?"
Suda51: "Future consoles will be like this and the console will connect with many other consoles. Then you can dive into it."
MoMAA: "I totally don't understand what you are saying…"
Then the project ended right there. MoMA actually wanted Suda51 to create a game that you can play, but Suda51 wanted to display his own idea of what he thinks consoles will become at the museum. After this he told them he could create a game which runs on the console, but since then he hasn't heard back from MoMA.
Moving away from that bit of craziness, Nintendo and Suda51 were doing preparation meetings for [email protected] two days before the event. He was interviewed by 33 media outlets at PAX, and there was demand for more interviews. But due to his schedule, he had to put in a limit there.
As we already know, Travis will wear indie game t-shirts in Travis Strikes Again: No More Heroes. Suda51 did talk with many indie developers at PAX. The numbers of collaboration t-shirts with different indie titles will be quite a lot. Since the interview space and PAX event space was a bit far, he couldn't go visit indie devs to talk about collaboration fully, but he still manged to speak with around 20 developers in total. Almost all of them instantly replied stating that they wanted to be involved with collaborations in Travis Strikes Again. Even on the day of Famitsu's stream, he received an email from one indie developer who wanted to collaborate, and the name of the developer is a pretty good one.
Suda51 previously revealed that you only use one Joy-Con to play Travis Strikes Again in other interviews. However, he added that there is still a secret. Since you only play with one Joy-Con, there's another controller left. What you will do with the Joy-Con is the key, and he further hinted at co-op.
---
Massive thanks to iYakku and BlackKite for helping with this translation!
---
Thanks for making it to the end of this post! If you use any of this translation, please be sure to properly source Nintendo Everything. Do not copy its full contents.
Leave a Reply