Suda51 talks a bit more about Switch, wants Travis Touchown in Smash Bros.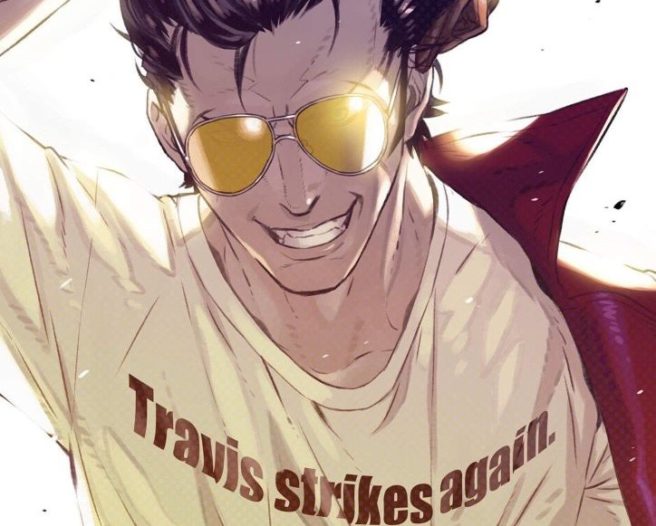 Suda51 appeared on the latest episode of IGN's Up At Noon show this past week. At one point, the No More Heroes creator tackled a few questions about Switch.
First, when asked about whether it's easy developing for the platform and working with Nintendo, he responded by saying that it's extremely easy. He also feels that the environments are in place to make things easy for developers.
Suda51 then said that he's hoping to bring back many familiar characters for his new project on Switch – including Travis Touchdown obviously. He's thinking about how to use the Joy-Con controllers for something like charging Travis' Beam Katana. On Wii, the No More Heroes games had players recharging the weapon by by shaking the Wii Remote.
In terms of Switch's features, Suda51 showed interest in HD Rumble. The portability aspect is another good thing, and having the touch panel available is another important aspect.
There was also this interesting part of the conversation regarding how Suda51 would make his own Mario title:
That isn't all from Suda51. He was also interviewed by Easy Allies' Ben Moore during NIS America's Press Event last night, and he was happy to talk about Nintendo there as well.
Suda51 was asked about what sort of project he'd make if he had an infinite amount of money / resources. He responded about wanting to make a crazy game with Smash Bros. director Masahiro Sakurai that would be something along the lines of "Super Smash Everything All-Stars" (this is basically a paradoy here). Mario would be there in the lineup. He further added that he'll talk to Sakurai about this directly, but… this is probably just be Suda51 being Suda51, so maybe we shouldn't read much into that.
However, the discussion then shifted to Suda51 talking about how he wants to see Travis Touchdown in Smash Bros.:
"In all seriousness, next time he does decide to go and make a Smash Bros. game, I'm seriously going to tell him, 'Put in Travis Touchdown. Come on, put him in the game.' So every time we talk about this, partially in the middle he listens, he starts to laugh, and that laugh trails off into, 'ha ha…'. This time Sakurai-san, I'm not going to let you go. You're not getting away."
Suda51 did actually mention wanting to have Travis in Smash Bros. many years ago, but he was apparently joking at the time. He may actually be serious this time around.
Last but not least, the discussion did focus on Switch a bit briefly. Danganronpa writer and creator Kazutaka Kodaka was participating in this entire discussion as well, but didn't have much to say about the platform, in part because Sony publishes the Danganronpa series in Asia. But on the topic of Danganronpa, Suda51 started mulling over having Monokuma in the new Switch game – perhaps as a boss or summon. Kodaka was totally fine with the character's inclusion so long as Spike Chunsoft's president signs off on it.
Leave a Reply