Super Mario Odyssey devs on Captain Toad, changes in kingdoms, elements for Mario 64 players, newcomer help, more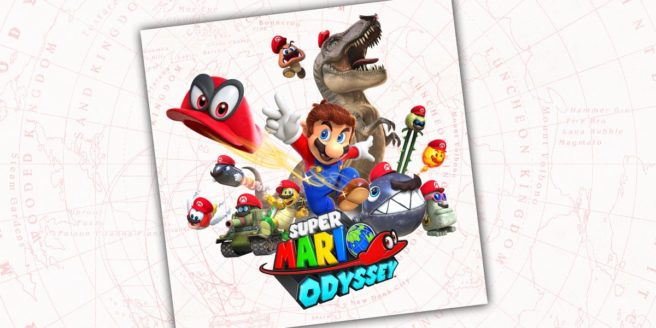 Game Informer went live with a new Super Mario Odyssey interview today. The site spoke with director Kenta Motokura and producer Yoshiaki Koizumi to learn more about the game.
Various topics were discussed, including Captain Toad, how kingdoms change while you play, and help for newcomers. Also teased were elements that will make players who played Super Mario 64 "happy". Koizumi weighed in on how he's becoming more of a face for Nintendo lately.
We've picked out the interesting excerpts from the interview below. You can read the full discussion here.
On whether Koizumi is comfortable being more of the face of Nintendo lately…
Koizumi: I'd certainly be happy to do anything to help promote Nintendo and its games. And I was also acting as the producer for the Switch hardware project. Because of that I'm also willing to anything to help that succeed. As the producer of Super Mario Odyssey, I'll certainly do anything also.
On Captain Toad…
Motokura: Well I'd certainly be happy if you were looking forward to the possibility of a future Captain Toad game, but none we can mention just yet. But, Captain Toad is also an adventurer, so he will be wandering about in different kingdoms of Super Mario Odyssey.
On whether every Mario game contains the same Mario, or if it's different versions of Mario…
Koizumi: I think the easiest way to say it is Mario's Mario.
On why Mario wants to stop the wedding between Peach and Bowser…
Koizumi: I've always thought that Mario carries a bit of a torch for Peach. I think that's true even back in the 2D Mario games. If not, he wouldn't be wasting his time rescuing her over and over again.
On whether the levels change as you play through the game…
Motokura: I can't say specifically as to whether or not the ice vanishes from the sand area, but the kingdoms do change throughout the progress of the game. When you first enter into a level, you'll get a title for that period of time you're there, and then as you progress through the level, you will see changes in that (level) so the next time you go in you'll get a different title.
Koizumi: Any time you enter a stage you see a main title that gives you like the main critical path objective, and when you keep doing those in order you will get the course to change.
On whether there will be any throwback levels…
Motokura: We don't have any levels that are taken, let's say, specifically from something like Super Mario 64, but we do have elements in the game that will make the folks who played Super Mario 64 happy when they encounter them.
On what it takes to say no to an idea that's surprising…
Motokura: It's not just a visual appeal. It has to be something that's interesting, if you think it's fun to do, then it's within the realm of possibility. The Mario IP is so strong, you can take Mario, or a Mario franchise character, and put them in pretty much any situation and it makes it okay. We have a great flexibility. That is why we were able to put him in a city setting for this game, which is not a traditional Mario-type of setting, but Mario carries it off.
On being able to track down the various moons in each level…
Motokura: Well fundamentally, we are looking at these sandbox spaces where we have a high density of gameplay elements in a relatively small amount of space, we've designed it in such a way that we think everyone can find all the power moons. It's designed in such a way to entice people to look in certain areas. We are thinking of some ways that would perhaps assist players who are not as familiar with the genre or not as comfortable with exploring and looking around, so there are ways that we are thinking of giving them some help.
Leave a Reply