[Interview] Super Monkey Ball: Banana Mania dev on project origins, physics, camera, more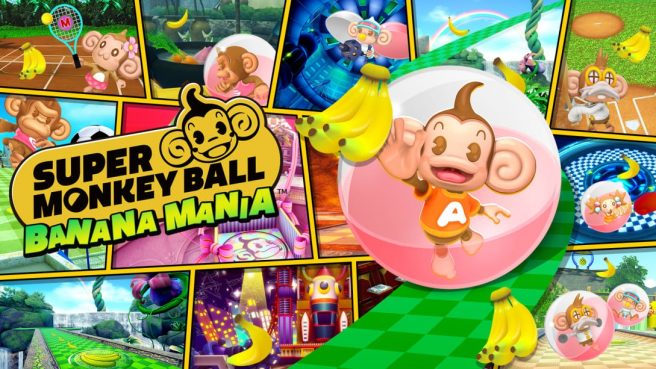 In a recent interview with Nintendo Everything, Super Monkey Ball: Banana Mania director Masao Shirosaki spoke about a number of topics, including how the project came to be, the game's physics, camera, and much more.
Shirosaki informed us that development begin around March 2020, and the team was working from home due to the current pandemic. He also discussed what players can expect from the physics and camera in Super Monkey Ball: Banana Mania, which are some of the gameplay elements that fans have been curious about.
Here's our full discussion:
Super Monkey Ball started to make a bit of a comeback with Banana Blitz HD in 2019. Were you pleased with the game's reception? How did the title sell on Switch?

We've had many people play Banana Blitz HD and received a lot of great feedback.

I've read through all of it, both positive and negative, but full of love for Super Monkey Ball. Switch was especially popular, and we're very excited to see how the new game is received.

I think we received positive feedback in terms of the visual aspects such as the characters, stages and UI. On the other hand, we received critical feedback on how the camera position was fixed in the main game, and how the boss fights were in terms of gameplay. If we had the chance to create another game, I wanted to address those criticisms.

Moving on to Banana Mania, how did the project come to be? Did fan input impact the direction the team decided to go in?

We talked about creating the next game because so many fans supported Banana Blitz HD. We had received a lot of opinions on how fans wanted original Super Monkey Ball and Super Monkey Ball 2 remakes, so Banana Mania would never have come to be if it weren't for the voices of all those fans. We were able to remake those titles thanks to your requests. Thank you very much!

How long has the project been in development?

We started up the project around March 2020 and continued development for about a year and a half.

As you would suspect, development had to happen at home due to the pandemic. There were things I just had to get used to in this unusual situation, but the entire team held daily online meetings and we finally made it to completion after a lot of trial and error. Even with the staff members physically apart, the desire that we all had to make a great game, and the fact that everyone knew their role to make that possible, resulted in this success. I am also grateful to the support staff who helped create this development environment under difficult circumstances.

Rather than remastering a single game, Super Monkey Ball Banana Mania features content from three different titles. What influenced that decision, and why were Super Monkey Ball 1/2/Deluxe chosen specifically?

After releasing Banana Blitz HD, we heard from a lot of fans via social media and elsewhere that they wanted a remake of the original Super Monkey Ball and Super Monkey Ball 2. When we thought about the next Super Monkey Ball project, we really wanted to answer all those fan requests, so we decided to focus on remaking those two classics.

In terms of Deluxe, that game included original Super Monkey Ball and Super Monkey Ball 2 content alongside a few additions, and we thought fans would appreciate having all three games remade together.

What was it like going back and reimagining these iconic worlds from the original games? Was there a level or world that stands out as especially fun to remaster?

The process of watching the original stages become more colorful and beautiful was a very fun experience for all of us, as the ones making it.

The moment modern AiAi popped up on the very first stage of Super Monkey Ball was especially memorable for me. Watching AiAi with the new visuals standing in the stage full of green felt as if a new era had arrived for the Super Monkey Ball series and was very exciting. The word "READY?" appears on the screen before you start the stage and it really felt like it!

How faithful is Banana Mania compared to the original games? Are the physics similar to the way they were originally?

The physics are based off the original so it's largely similar. In addition to the original physics, we made minor adjustments like the tilt of the stage and the increase in speed when you roll forward. The stage gimmicks are also the same as the original. It's very faithful.

Some fans have been curious about the camera and whether there is a fixed position or different angles. Based on footage shown, the camera in Banana Mania seems low to the ground/is tighter on the horizon compared to Super Monkey Ball 1 and 2. Having said that, can you clarify how the camera is being handled?

The main game camera for this game is based off Banana Blitz HD but includes some additional improvements. Compared to Banana Blitz HD, it's much easier to turn. Also, you can now control the camera angle. I myself felt very annoyed at not having that level of control over the camera in the past Super Monkey Ball games. I think it makes the new game much easier to play but please try it out yourself.

How did SEGA settle on the "Banana Mania" subtitle? Did the previous release of Sonic Mania play a role at all?

The Super Monkey Ball series is celebrating its 20th anniversary this year, and we decided to use the subtitle "Banana Mania" to make it feel more like a new game instead of a title that speaks to nostalgia like "1&2 Remaster." We see this as an opportunity to put a great Super Monkey Ball game in front of new players who have never played a Super Monkey Ball before. I think this game turned out to be one that doesn't fail its name.

It actually has nothing to do with Sonic Mania. Although Sonic and Tails do appear as guest characters.

What led to the new difficulty accessibility features in this re-release, such as the option to toggle jumping and slow down time in-game?

In the original game, there were some pretty difficult stages. I was concerned from the very start that for those who play Super Monkey Ball for the first time, this difficulty would be too much. At the same time, I thought that fans who have been playing the past Super Monkey Ball titles will feel this is a different game if we just simply changed the structure of the stages.

So that's when we decided to include various "support features". We made it so you can use the help feature when you think it's too hard and play at normal difficulty if you think you can clear a stage without any help. The toggle jumping is a part of that. Essentially, we wanted to ensure that players who have never played Super Monkey Ball and those who have can all have fun playing the game.

Will different versions of mini games be included such as Monkey Bowling 1 in addition to Monkey Bowling 2?

The Party Games in Banana Mania are the same 12 that appeared in Super Monkey Ball Deluxe. We did include some new tricks though, so I would be happy if you could try looking for them!

What can you tell us about the game's Story Mode?

The Story Mode for this game uses the same story that appeared in Super Monkey Ball 2. Dr. Bad-boon will be back to greet you with his subordinates! Please beat up Dr. Bad-boon and get your bananas back *laugh*

What can fans expect from the future of Super Monkey Ball? Now that SEGA has revisited the series' past entries, would an entirely new game be possible down the road?

I actually want to know what everyone is expecting of Super Monkey Ball *laugh*. As with past games, we are very eager to hear what fans think of the new game and what they'd like to see in the future.

I like going on adventures so I want to play a game where I can go on an adventure around the world with AiAi!

Is there anything else you'd like to say about Super Monkey Ball Banana Mania and to those that are looking forward to its release?

Thank you for supporting the Super Monkey Ball series for so long! I am always gaining power from the comments and fan art on social media. We were only to make Banana Mania thanks to everyone's support.

We created this game just to see everyone smile so we would be overjoyed if you have fun with it. I would be happy if we can continue to create the future of Super Monkey Ball together. GO BANANAS!
Super Monkey Ball: Banana Mania launches for Switch on October 5, and we'll have a review soon. You can access the game's official site here for more information.
Leave a Reply