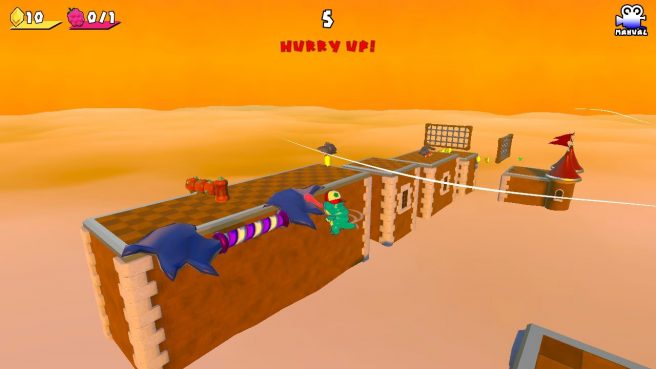 Another 3D platformer joined the Switch library in Super Sami Roll, and we've now got a good chunk of gameplay. A video has come through with 16 minutes of footage.
For those that need a refresher on Super Sami Roll, read the following overview:
The wicked Albert VII has captured Sami's friend Vera and only you can help him save her! But it won't be easy – you'll need to roll, grapple, and jump to make it through in the colorful 3D world of Super Sami Roll.

Embark on a journey rolling through beautiful green fields, deserts dotted with magnificent pyramids, dangerous oozing volcanoes, frigid ice lands and many other memorable places with rolling physics and tons of hidden secrets!

Key Features

– Beautiful World: Explore colorful, eye-catching environments, characters and enemies.
– Level Variety: Play through dozens upon dozens of unique levels
– 2D & 3D Art: Features a combination of painstakingly hand-crafted pixel art and modern 3D graphics
– Secret Hunting: Find tons of secrets – including awesome unlockable modes (even a multiplayer one!)
– Challenges: Progressive difficulty that's been fine-tuned to keep you engaged until you become a true master!
– Sami in Style: Customize your character.
– Great Tunes: Upbeat soundtrack, check!
View the gameplay for Super Sami Roll on Switch below.
You can pick up Super Sami Roll digitally for Switch via the eShop. It supports English, Japanese, French, German, Spanish, and Portuguese language options.
Leave a Reply