Over on the game's official blog, Oddworld Inhabitants and Just Add Water shared an official update regarding the status of Oddworld: New 'n' Tasty for Wii U.
The existence of the 8GB Wii U model no longer seems to be much of an issue. However, the team is "dependent" on the completed versions of New 'n' Tasty for PS3 and PS Vita, as quite a number of optimizations for these versions will be used in the Wii U SKU. Additionally, "There is also specific functionality in Unity that isn't currently supported on Wii U." At the moment, there is "considerable work to be done" regarding Oddworld on Wii U.
Don't fret too much. It was said towards the end of today's status report, "We remain invested in the Wii U platform, and reiterate our desire to have Abe on a Nintendo console."
Read on below for the full Oddworld: New 'n' Tasty Wii U update.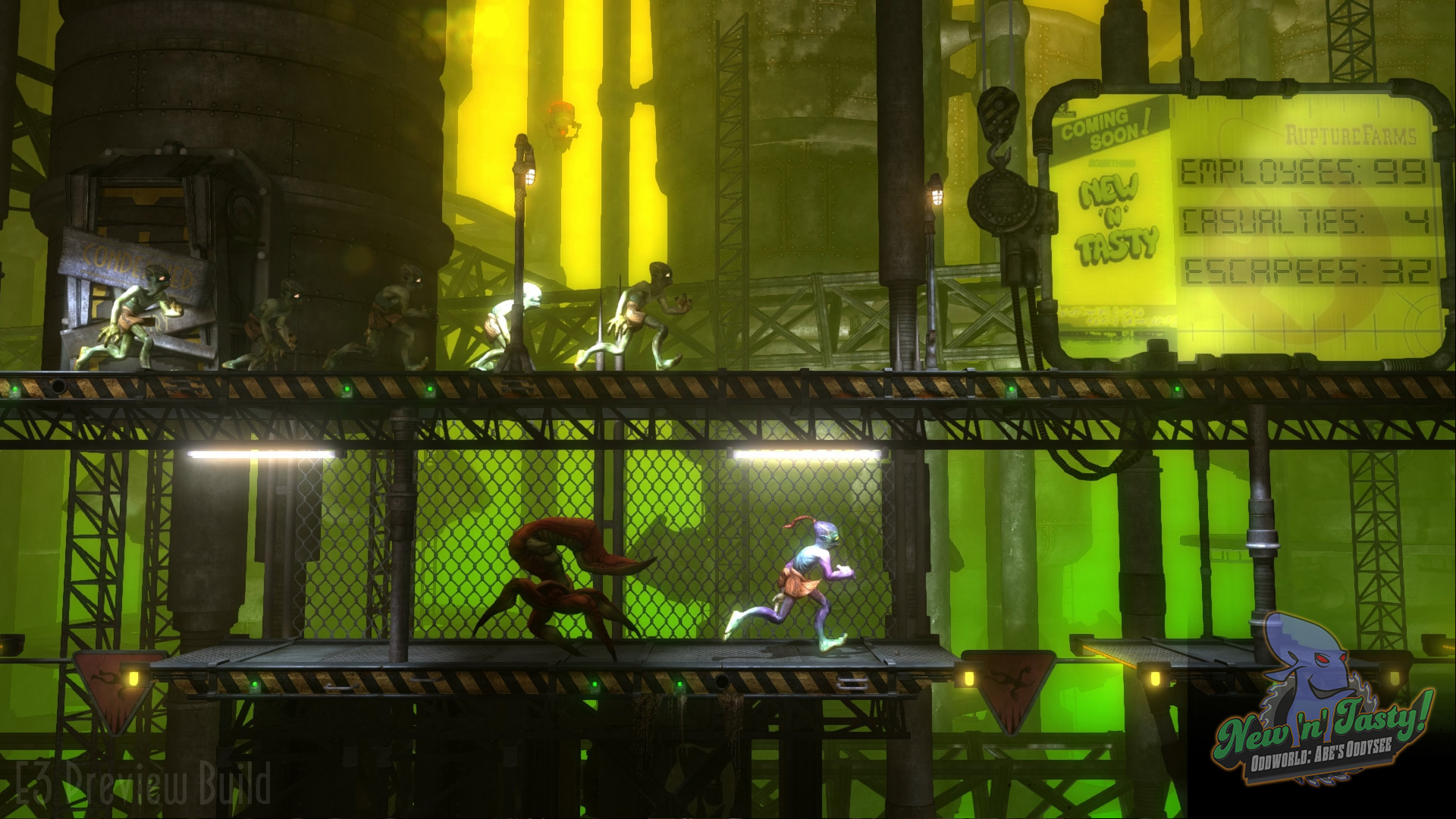 Update: The official Oddworld Inhabitants Twitter account just issued the following message on Twitter over concerns that the Wii U version has been cancelled:
New 'n' Tasty is not cancelled on Wii U. We are currently having challenges with the platform that we are striving to overcome.

— Oddworld Inhabitants (@OddworldInc) October 17, 2014
Regarding Wii U, while supporting the 8GB model is a consideration, it is neither a dealbreaker nor the only challenge.

— Oddworld Inhabitants (@OddworldInc) October 17, 2014
---
The Wii U version of Oddworld: New 'n' Tasty seems to be facing a bit of trouble.
During the latest episode of the Fragments of Silicon podcast, Oddworld creator Lorne Lanning mentioned that the team is "having challenges without having a hard disk". However, he quickly added: "we're trying to overcome those challenges."
Lanning went on to say that he's "desperate to be on Nintendo" and feels that "Oddworld will resonate well" with the Nintendo audience.
Read on below for the full transcript of Lanning's comments.
Note that the end of the trailer specifically references the PS4, but Oddworld: New 'n' Tasty is coming to various platforms including Wii U.
Oddworld creator Lorne Lanning is open to remaking another one of the series' entries, Oddworld: Abe's Exoddus.
Lanning told Wired that it may very well be the next project the team takes on depending on success. If New 'n' Tasty sells well, we should eventually be seeing Abe's Exoddus in HD.
Lanning said:
With success, yes. The number one thing is selling games — when they profit, we can make more games. With success, Exoddus will be the next game we make and with a LOT of success we'll start making new IPs.
Also while speaking with Wired, Lanning discussed why it wasn't possible for Oddworld Inhabitants to make a new IP. The studio ended up rebuilding Abe's Oddysee since that's what fans requested the most.