Teyon has confirmed Skater Cat's launch on the 3DS eShop. The title will be available in both North America and Europe on March 19 for $4.99 / €4.99.
Here's an official overview of Skater Cat:
Skater Cat is a side-scrolling action game where players jump on board a skateboard with Ollie the coolest cat in town. Players will travel through 3 worlds in over 25 levels collecting treats and rounding up stray cats to win a total of 90 medals! Best times and ghost runs can be exchanged with other players and the games' developers via SpotPass and StreetPass, once enabled on the Nintendo 3DS system.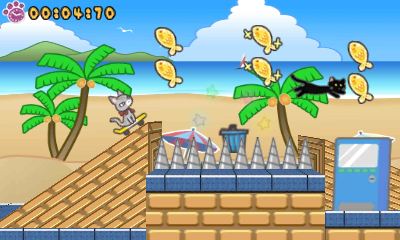 Teyon has yet another 3DS eShop title in the pipeline. "Skater Cat", a new action game that has players riding the streets and performing stunts, is due out sometime in the future.
Here's a quick listing of features contained in Skater Cat:
3 worlds with over 25 levels to complete and 90 medals to collect
Exciting in-game bonuses to unlock including the ability to play as your Mii
StreetPass feature included to exchange best times and ghost runs from other Skater Cat players
Receive news updates and available ghost runs from the game makers via SpotPass
A single screenshot from Skater Cat can be found above. The official page is located here.