Yesterday we posted some gameplay footage from SpongeBob HeroPants on 3DS. Those who have watched the video have been quick to point out that a Unity logo pops up as you boot up the title. What does this mean? Well… truthfully, no one can say for sure just yet.
There are a few theories floating around. Is SpongeBob HeroPants one of the first 3DS games to support Unity? Did the developers simply forget to remove the logo (since there are other versions out there like the PlayStation Vita edition)? Did the team port the engine themselves?
No one seems to have a clear-cut answer at the moment. It's an interesting discovery nonetheless!
Thanks to Jake for the tip.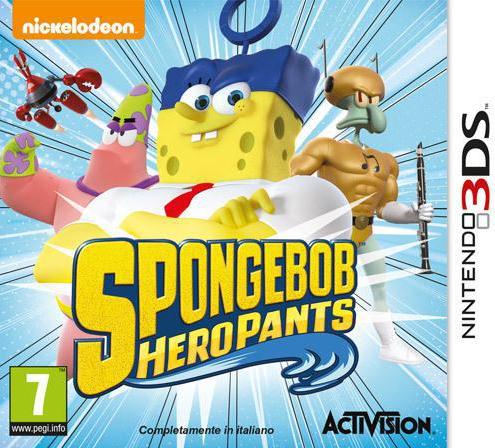 Update: We now have clarification that the North American launch is set for February 3. The European release is planned for March.
---
SpongeBob HeroPants is coming to the 3DS, Xbox 360, and PlayStation Vita, Activision has announced. The game is due out in March.
Here's the official overview of SpongeBob HeroPants:
All is not well in Bikini Bottom following the events of Paramount Pictures' The SpongeBob Movie: Sponge Out of Water, the new animated/live-action feature film hitting UK cinema screens on 27th March. SpongeBob's dreams are coming to life and altering space and time beneath the waves. SpongeBob must join forces with his friends to unlock their hidden abilities and put back the pieces of his shattered cartoon psyche. Along the way they'll visit alternate forms of Bikini Bottom as it is warped by SpongeBob's mind into prehistoric, war zone and candy-coated versions of the town.
SpongeBob HeroPants is an action-platformer featuring exploration, light puzzle, and combat elements. You'll be able to play as SpongeBob, Patrick, Squidward, Sandy, Mr. Krabs and Plankton. Each character can morph into a unique super-powered champion to solve challenges, unlock new areas, and defeat SpongeBob's crazy imagination. The game also includes boss battles, upgradeable skills, and hidden items.
Source: Activision PR