Zen Pinball 2's update is now up and running in North America. Zen Studios had the patch pushed back for unspecified reasons yesterday, but at least it's here now!
As tweeted by the company:
The update for Zen Pinball 2 on Wii U is now live! Have a fun weekend of pinball!

— Zen Studios (@zen_studios) August 29, 2014
Zen Pinball 2's new update for Wii U has been delayed in North America. Several new tables were set to go live today including The Walking Dead and Deadpool. Instead, we'll be seeing the update tomorrow.
Apologies but today's update for Zen Pinball 2 on Wii U has been delayed in North America. We hope to release it tomorrow!

— Zen Studios (@zen_studios) August 28, 2014
Wii U owners can expect more support from Zen Studios in the future. The company announced that three more tables will be coming to the console next week, and fans can look out for even more content going forward.
Zen Studios' Mel Kirk told Nintendo Life:
Yes, we are aiming for Wii U parity in the future with updates and new tables. Additionally, KickBeat Special Edition will be released on Wii U in line with other releases on other consoles.

Zen is committed to continuing support of the Wii U eShop in the future. We are really encouraged by the amazing games coming to the platform and we think there will be a boost in Wii U sales that will hopefully translate to players coming to the eShop to discover games. I think Zen might have the most Wii U eShop releases, so we hope players enjoy our games!
Zen Studios has made a few titles for 3DS as well, though the platform isn't as likely to be supported in the future, which Kirk explained:
At this time we do not have any 3DS plans to share. Our type of game system does not mesh very well with 3DS, so it has been tough to support add-on content. However, the game does play amazing on the 3DS, and I especially love it on the XL.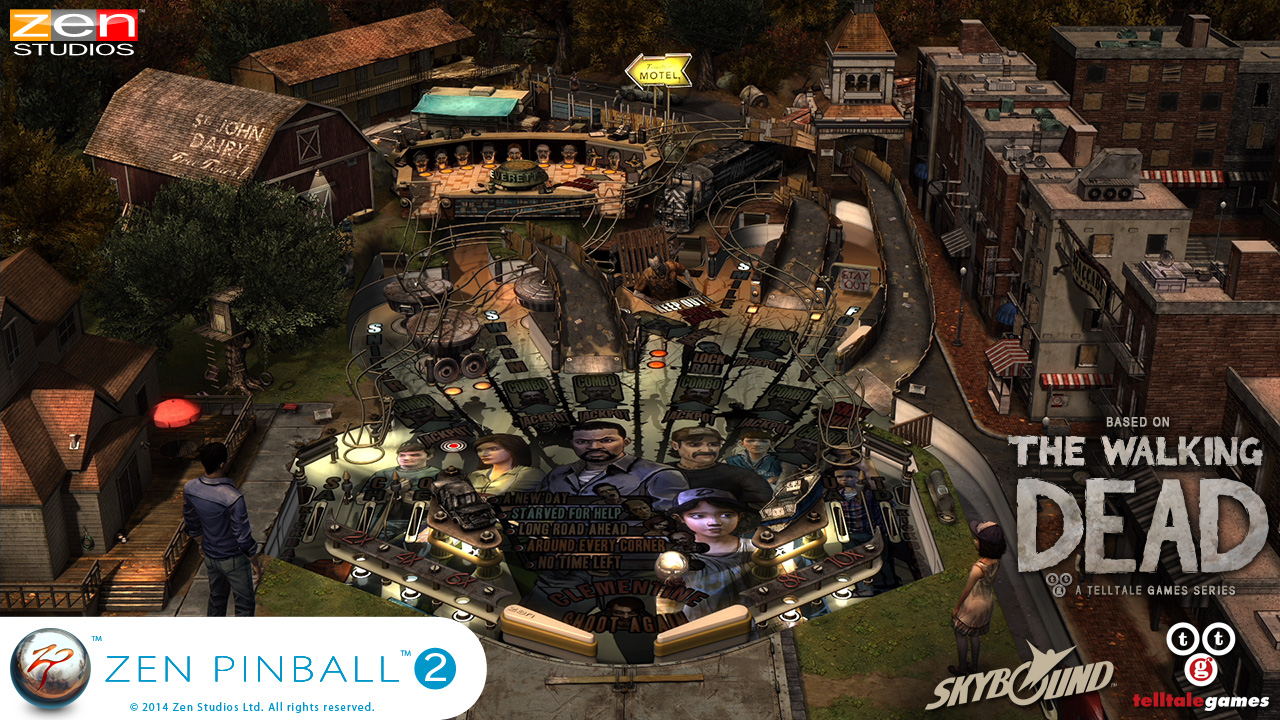 Zen Studios is bringing out several new games for Zen Pinball 2 on Wii U next week. Starting on August 28, players can purchase the latest Marvel Pinball tables, including the newly released Marvel's Guardians of the Galaxy, Deadpool, and Doctor Strange tables, as well as a table based on Telltale Games' The Walking Dead.
Zen Studios VP of Publishing Mel Kirk said in today's announcement:
"We're huge supporters of the Wii U, and have worked to ensure a great pinball experience across the board for our fans on the system. This table update is only a small piece of our ongoing future commitment to the platform, so be ready for more announcements coming soon."
Pricing for new tables will be set at $2.99 / €2,99 / £2.49.
Source: Zen Studios PR
Zen Studios is releasing a table based on The Walking Dead for its various pinball platforms next week – including Wii U. It's due out on August 28 for Nintendo's console through Zen Pinball 2.
Below is an official overview of the table:
Zen and Telltale have collaborated closely on every facet of the table's design, portraying the captivating story and choice-driven gameplay design of The Walking Dead: Season One in a truly exciting pinball experience. The table will present players with recognizable locations like Clementine's treehouse and Everett's pharmacy in Macon, down to the walker-infested streets of Savannah, and players will find a breathtaking retelling of Season One that keeps the peril and drama of Lee and Clementine's story intact.

The Walking Dead pinball table also presents choice-driven gameplay across each of Season One's five episodes, offering brand new story dialogue from the award-winning cast. Players will be tasked with choosing who lives and who dies in a walker attack, solving problems and raising the group's morale, hunting down food and supplies, acquiring important tools, and navigating through the herd amidst an oncoming walker breach.
For photos of The Walking Dead table, check out our gallery above.
Source: Zen Studios PR