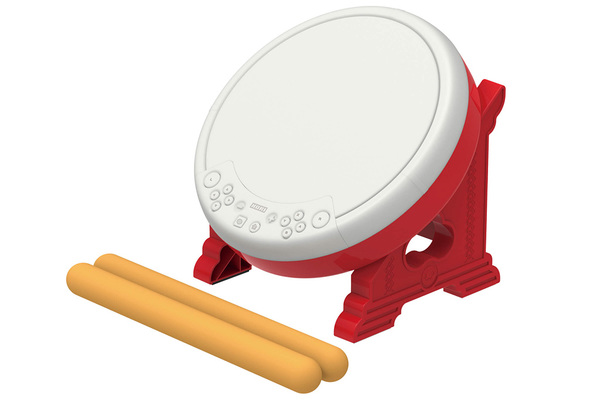 -Performance characters
A new element is performance characters, each performance character has a skill that supports your performance. There are two performance characters being Kirby and Squid from Splatoon.
Party Games
Everyone Bon Odori
A game where everyone works together to achieve a high score. Flutter your Joy-Cons to the rhythm, push buttons, and dance back and forth. A sound cue will play when the turn direction changes, so be sure to pay attention.
If you fail, Don-chan and the others may fall over. Work together to successfully clear the game.
Home Run Batter
Swing to the rhythm when the ball comes your way. There may be curve balls in addition to straight pitches, so be sure to pay attention to the rhythm of the music. And if the pitcher throws a fireball straight, swing at the same time the ball is thrown. Aim for the home run.
By clearing a game, you will unlock higher difficulty games. Also, by playing games time and time again, you may also be able to choose new performance characters when playing songs. Play party games multiple times, then take on musical performances.
-Song list part 2
Pop "Mita koto mo nai Keshiki" by Au Santarou Soccer Ouen CM Song
Pop "Sugar Song to Bitter Step"
Pop "Memeshikute" by Golden Bomber
Pop "Train-Train"
Pop "One Night Carnival"
Pop "Silent Jealousy"
Anime "Lupinranger vs. Patranger"
Anime "Pop Team Epic" from the opening theme of the TV anime Pop Theme Epic
Anime "Yo-Kai Taisou Dai'ichi" from Yo-kai Watch
Anime "We Are" from One Piece
Anime "Odoru Ponpokorin" from Chibi Maruko-chan
Anime "Sanpo" from My Neighbor Totoro
Anime "Kimi ni 100 Percent" from Crayon Shin-chan
Anime "Anpanman no March"
Vocaloid "Juumensou Colorful Ver." by YM
Vocaloid "Onigiri ha Doko Kashira" by Yomii
Variety "Jounetsu Tairiku"
Variety "Bad Apple!! feat. Nomico" by Touhou Project Arrange Alstroemeria Records
Variety "Iro ha Nio he Dochiri Nuru wo" by Touhou Project Arrange Ryuuhei Satellite
Variety "ABC no Uta"
Variety "Omae Butamen" by Oyatsu Company & The Puh
Classic "Kumabachi no Hikou" by Rimsky-Korsakov
Classic "Toruko Koushinkyoku" by Beethoven
Game Music "Kirby Medley" from Kirby's Return to Dream Land
Game Music "Pac Toy-Box" from Pac-Man Championship Edition 2
Game Music "Anzu no Uta" from The Idolmaster: Cinderella Girls
-Drum controller
Hori will also be releasing a drum controller for the Switch releasing July 19th. It seems to be a more sensitive controller than other Hori drums and can be seen in the image above.
Leave a Reply