Tetris 99 announces 24th Maximus Cup with WarioWare: Get It Together!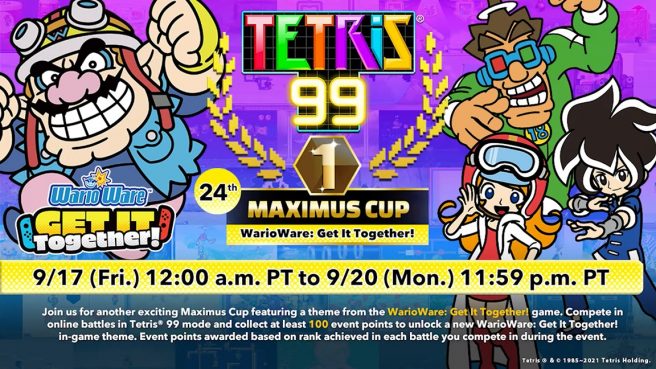 Nintendo has announced the 24th Maximus Cup for Tetris 99, and this time around, WarioWare: Get It Together! will be the featured game. Players will have the opportunity to unlock a theme based on the game. The visuals and music will be based on WarioWare: Get It Together!
Unlocking the theme works just like any other event. If you collect at least 100 event points, you'll be able to claim the WarioWare: Get It Together theme in Tetris 99.
Here's a trailer highlighting the upcoming event in action:
Nintendo has made it a regular habit of promoting new Switch games in Tetris 99. We've seen Maximus Cups previously for Mario Golf: Super Rush, Super Mario 3D World + Bowser's Fury, Super Mario All-Stars, Paper Mario: The Origami King, and many others. It's likely that the tradition will continue with additional titles in the future. We certainly wouldn't be surprised to see Metroid Dread get a Maximus Cup around October as well. If we do hear anything about additional Maximus Cups and themes, we'll be sure to let you know.
The Tetris 99 24th Maximus Cup with WarioWare: Get It Together! begins on September 17. You'll have until September 20 to participate.
You can learn more about Tetris 99 on Nintendo's website here.
Leave a Reply