Upcoming Super Mario Run sale price in various countries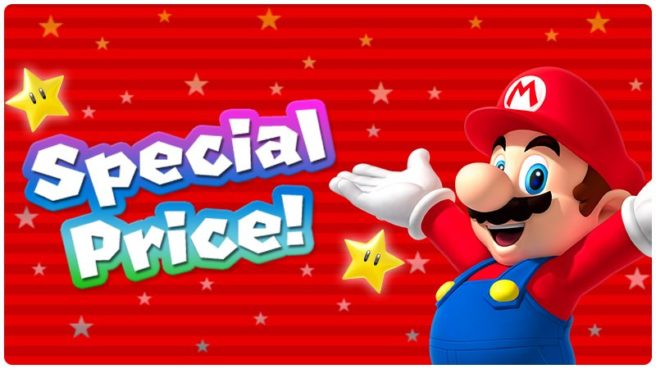 Super Mario Run is receiving a major update on September 29. In addition, Nintendo is putting the game on sale for the first time. Super Mario Run will be discounted on both iOS and Android around the world.
Nintendo published a handy chart showing what the new sale price will be in various counties. Continue on below for the full listing.
| | | | | | | |
| --- | --- | --- | --- | --- | --- | --- |
| Albania | JPY | 1333 | 667 | USD | 9.99 | 4.99 |
| Angola | JPY | 1111 | 556 | USD | 9.99 | 4.99 |
| Antigua & Barbuda | JPY | 1111 | 556 | USD | 9.99 | 4.99 |
| Argentina | JPY | 1111 | 556 | USD | 9.99 | 4.99 |
| Armenia | JPY | 1111 | 556 | USD | 9.99 | 4.99 |
| Aruba | JPY | 1111 | 556 | – | – | – |
| Australia | AUD | 14.99 | 7.99 | AUD | 14.99 | 7.99 |
| Austria | EUR | 10.99 | 5.49 | EUR | 10.99 | 5.49 |
| Azerbaijan | JPY | 1111 | 556 | USD | 9.99 | 4.99 |
| Bahamas | JPY | 1111 | 556 | USD | 9.99 | 4.99 |
| Bahrain | USD | 9.99 | 4.99 | USD | 9.99 | 4.99 |
| Bangladesh | BDT | 800 | 400 | – | – | – |
| Belarus | JPY | 1111 | 556 | USD | 9.99 | 4.99 |
| Belgium | EUR | 10.99 | 5.49 | EUR | 10.99 | 5.49 |
| Belize | JPY | 1111 | 556 | USD | 9.99 | 4.99 |
| Benin | JPY | 1111 | 556 | USD | 9.99 | 4.99 |
| Bolivia | BOB | 69.99 | 34.99 | USD | 9.99 | 4.99 |
| Bosnia and Herzegovina | JPY | 1111 | 556 | – | – | – |
| Botswana | JPY | 1111 | 556 | USD | 9.99 | 4.99 |
| Brazil | BRL | 35 | 17.5 | USD | 9.99 | 4.99 |
| Bulgaria | BGN | 21.99 | 10.99 | BGN | 21.99 | 10.99 |
| Burkina-Faso | JPY | 1111 | 556 | USD | 9.99 | 4.99 |
| Cabo Verde | JPY | 1111 | 556 | USD | 9.99 | 4.99 |
| Cambodia | USD | 9.99 | 4.99 | USD | 9.99 | 4.99 |
| Cameroon | JPY | 1111 | 556 | – | – | – |
| Canada | CAD | 13.99 | 6.99 | CAD | 13.99 | 6.99 |
| Chile | CLP | 6500 | 3500 | CLP | 6500 | 3500 |
| Colombia | COP | 29900 | 14900 | COP | 29900 | 14900 |
| Costa Rica | CRC | 5500 | 2700 | USD | 9.99 | 4.99 |
| Côte d'Ivoire | JPY | 1111 | 556 | – | – | – |
| Croatia | HRK | 89.99 | 42.99 | HRK | 89.99 | 42.99 |
| Cyprus | EUR | 10.99 | 5.49 | EUR | 10.99 | 5.49 |
| Czech Republic | CZK | 299 | 149 | CZK | 299 | 149 |
| Denmark | DKK | 89 | 45 | DKK | 89 | 45 |
| Dominican Republic | JPY | 1111 | 556 | USD | 9.99 | 4.99 |
| Ecuador | JPY | 1111 | 556 | USD | 9.99 | 4.99 |
| Egypt | EGP | 189.99 | 94.99 | EGP | 189.99 | 94.99 |
| El Salvador | JPY | 1111 | 556 | USD | 9.99 | 4.99 |
| Estonia | EUR | 10.99 | 5.49 | EUR | 10.99 | 5.49 |
| Fiji | JPY | 1111 | 556 | USD | 9.99 | 4.99 |
| Finland | EUR | 10.99 | 5.49 | EUR | 10.99 | 5.49 |
| France | EUR | 10.99 | 5.49 | EUR | 10.99 | 5.49 |
| Gabon | JPY | 1111 | 556 | – | – | – |
| Germany | EUR | 10.99 | 5.49 | EUR | 10.99 | 5.49 |
| Ghana | GHS | 44 | 22 | USD | 9.99 | 4.99 |
| Greece | EUR | 10.99 | 5.49 | EUR | 10.99 | 5.49 |
| Guatemala | JPY | 1111 | 556 | USD | 9.99 | 4.99 |
| Guinea-Bissau | JPY | 1111 | 556 | USD | 9.99 | 4.99 |
| Haiti | JPY | 1111 | 556 | – | – | – |
| Honduras | JPY | 1111 | 556 | USD | 9.99 | 4.99 |
| Hong Kong | HKD | 78 | 38 | HKD | 78 | 38 |
| Hungary | HUF | 3490 | 1790 | HUF | 3490 | 1790 |
| India | INR | 800 | 400 | INR | 800 | 400 |
| Indonesia | IDR | 149000 | 75000 | IDR | 149000 | 75000 |
| Ireland | EUR | 10.99 | 5.49 | EUR | 10.99 | 5.49 |
| Israel | ILS | 39.9 | 19.9 | ILS | 39.9 | 19.9 |
| Slovakia | EUR | 10.99 | 5.49 | EUR | 10.99 | 5.49 |
| Italy | EUR | 10.99 | 5.49 | EUR | 10.99 | 5.49 |
| Jamaica | JPY | 1111 | 556 | USD | 9.99 | 4.99 |
| Japan | JPY | 1200 | 600 | JPY | 1200 | 600 |
| Jordan | JPY | 1111 | 556 | USD | 9.99 | 4.99 |
| Kazakhstan | KZT | 3490 | 1690 | KZT | 3490 | 1690 |
| Korea (South Korea) | KRW | 12100 | 6600 | USD | 9.99 | 4.99 |
| Kuwait | USD | 9.99 | 4.99 | USD | 9.99 | 4.99 |
| Kyrgyzstan | JPY | 1111 | 556 | USD | 9.99 | 4.99 |
| Laos | JPY | 1111 | 556 | USD | 9.99 | 4.99 |
| Latvia | EUR | 10.99 | 5.49 | EUR | 10.99 | 5.49 |
| Lebanon | LBP | 15000 | 7500 | USD | 9.99 | 4.99 |
| Liechtenstein | CHF | 10 | 5 | – | – | – |
| Lithuania | EUR | 10.99 | 5.49 | EUR | 10.99 | 5.49 |
| Luxembourg | EUR | 10.99 | 5.49 | EUR | 10.99 | 5.49 |
| Macau | MOP | 79.99 | 39.99 | USD | 9.99 | 4.99 |
| Macedonia | JPY | 1111 | 556 | USD | 9.99 | 4.99 |
| Malaysia | MYR | 39.9 | 19.9 | MYR | 39.9 | 19.9 |
| Mali | JPY | 1111 | 556 | USD | 9.99 | 4.99 |
| Malta, Republic of | JPY | 1311 | 656 | EUR | 10.99 | 5.49 |
| Mauritius | JPY | 1111 | 556 | USD | 9.99 | 4.99 |
| Mexico | MXN | 199 | 99 | MXN | 199 | 99 |
| Moldova | JPY | 1111 | 556 | USD | 9.99 | 4.99 |
| Morocco | MAD | 120 | 60 | – | – | – |
| Mozambique | JPY | 1111 | 556 | USD | 9.99 | 4.99 |
| Namibia | JPY | 1111 | 556 | USD | 9.99 | 4.99 |
| Nepal | JPY | 1111 | 556 | USD | 9.99 | 4.99 |
| Netherlands | EUR | 10.99 | 5.49 | EUR | 10.99 | 5.49 |
| Netherlands Antilles | JPY | 1111 | 556 | – | – | – |
| New Zealand | NZD | 14.99 | 7.49 | NZD | 14.99 | 7.49 |
| Nicaragua | JPY | 1111 | 556 | USD | 9.99 | 4.99 |
| Niger | JPY | 1111 | 556 | USD | 9.99 | 4.99 |
| Nigeria | NGN | 2900 | 1500 | NGN | 2900 | 1500 |
| Norway | NOK | 109 | 55 | NOK | 109 | 55 |
| Oman | USD | 9.99 | 4.99 | USD | 9.99 | 4.99 |
| Pakistan | PKR | 1000 | 500 | PKR | 1000 | 500 |
| Panama | JPY | 1111 | 556 | USD | 9.99 | 4.99 |
| Papua New Guinea | JPY | 1111 | 556 | USD | 9.99 | 4.99 |
| Paraguay | JPY | 1111 | 556 | USD | 9.99 | 4.99 |
| Peru | PEN | 32.9 | 16.9 | PEN | 32.9 | 16.9 |
| Philippines | PHP | 499 | 249 | PHP | 499 | 249 |
| Poland | PLN | 47.99 | 23.99 | PLN | 47.99 | 23.99 |
| Portugal | EUR | 10.99 | 5.49 | EUR | 10.99 | 5.49 |
| Qatar | QAR | 36.99 | 17.99 | QAR | 36.99 | 17.99 |
| Romania | RON | 49.99 | 24.99 | RON | 49.99 | 24.99 |
| Russia | RUB | 748.99 | 379 | RUB | 749 | 379 |
| Rwanda | JPY | 1111 | 556 | – | – | – |
| Saudi Arabia | SAR | 36.99 | 17.99 | SAR | 36.99 | 17.99 |
| Senegal | JPY | 1111 | 556 | USD | 9.99 | 4.99 |
| Serbia | JPY | 1333 | 667 | – | – | – |
| Singapore | SGD | 14.98 | 6.98 | SGD | 14.98 | 6.98 |
| Slovenia | EUR | 10.99 | 5.49 | EUR | 10.99 | 5.49 |
| South Africa | ZAR | 149.99 | 79.99 | ZAR | 149.99 | 79.99 |
| Spain | EUR | 10.99 | 5.49 | EUR | 10.99 | 5.49 |
| Sri Lanka | LKR | 1500 | 750 | USD | 9.99 | 4.99 |
| Sweden | SEK | 109 | 50 | SEK | 109 | 50 |
| Switzerland | CHF | 10 | 5 | CHF | 10 | 5 |
| Taiwan | TWD | 300 | 150 | TWD | 300 | 150 |
| Tajikistan | JPY | 1111 | 556 | USD | 9.99 | 4.99 |
| Tanzania | TZS | 21900 | 10900 | TZS | 21900 | 10900 |
| Thai | THB | 349 | 179 | THB | 349 | 179 |
| Togo | JPY | 1111 | 556 | – | – | – |
| Trinidad & Tobago | JPY | 1111 | 556 | USD | 9.99 | 4.99 |
| Tunisia | JPY | 1111 | 556 | USD | 9.99 | 4.99 |
| Turkey | TRY | 34.99 | 17.99 | TRY | 34.99 | 17.99 |
| Turkmenistan | JPY | 1111 | 556 | USD | 9.99 | 4.99 |
| Uganda | JPY | 1111 | 556 | USD | 9.99 | 4.99 |
| Ukraine | UAH | 270 | 130 | USD | 9.99 | 4.99 |
| United Arab Emirates | AED | 36.99 | 17.99 | AED | 36.99 | 17.99 |
| United Kingdom | GBP | 9.99 | 4.99 | GBP | 9.99 | 4.99 |
| United States | USD | 9.99 | 4.99 | USD | 9.99 | 4.99 |
| Uruguay | JPY | 1111 | 556 | USD | 9.99 | 4.99 |
| Uzbekistan | JPY | 1111 | 556 | USD | 9.99 | 4.99 |
| Venezuela | JPY | 1111 | 556 | USD | 9.99 | 4.99 |
| VietNam | VND | 219000 | 109000 | VND | 219000 | 109000 |
| Yemen | JPY | 1111 | 556 | USD | 9.99 | 4.99 |
| Zambia | JPY | 1111 | 556 | – | – | – |
| Zimbabwe | JPY | 1111 | 556 | USD | 9.99 | 4.99 |
Leave a Reply