Video: F-Zero X graphics comparison (N64 vs. Switch)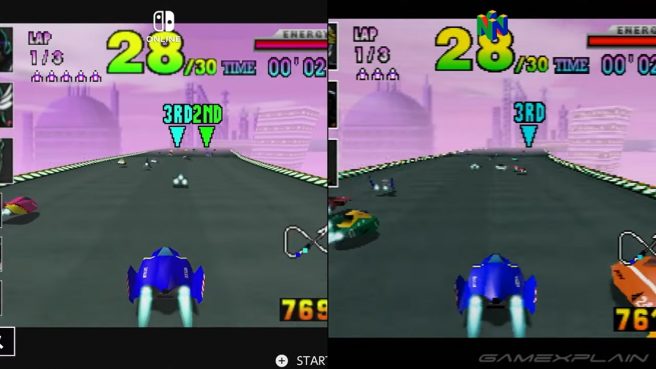 Nintendo provided a first look at F-Zero X on Nintendo Switch Online when it announced the game's release date for the service a short while ago, and a new video from GameXplain compares this version to the N64 original.
F-Zero X originally released on the N64 in 1998. It has since appeared on the Wii Virtual Console.
Below is some information about the game:
Choose from 30 different hover-car racers, including updated versions of the Blue Falcon and other vehicles from the original F-Zero game, and get ready to hit the acceleration! Race to the finish line on tracks that twist and turn through the air. However, you will have to avoid the other 29 cars on the track or else face the consequences! If you're in a competitive mood, try to win a Grand Prix Cup, get the fastest lap time in a Time Trial, or destroy the competition in a Death Race. You can also challenge three friends in the Versus mode. With five separate play modes, hidden vehicles and courses, and an excellent soundtrack, F-Zero X is a worthy racing title to return to!
The full video comparison for F-Zero X on Nintendo Switch Online and N64 hardware can be seen below.
N64 games on Switch have shared their fair share of scrutiny over the past few months. Many titles have been fine since release, but others experienced some issues. With Zelda: Ocarina of Time for instance, fans took issue with how fog was displayed in the game. Fortunately, that has since been addressed.
F-Zero X is due out for Nintendo Switch Online on March 11, 2022. You'll need to be a subscriber of the Expansion Pass tier to download the N64 app and play the game.
More information about the Nintendo Switch Online service can be found on the official site here.
Leave a Reply