Video: The Super Mario Bros. Movie shows Cat Mario, Seth Rogan as Donkey Kong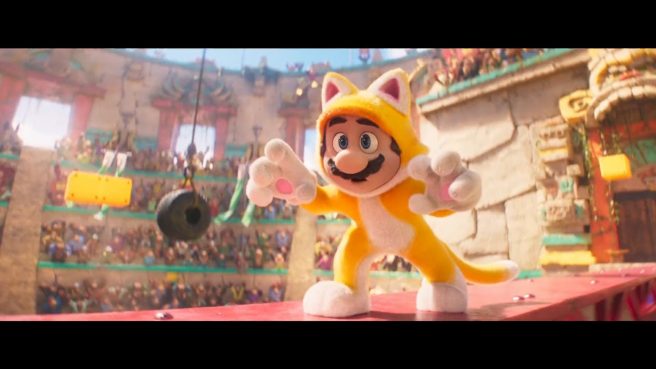 Another clip has come online for The Super Mario Bros. Movie, and it includes a first look at Cat Mario plus Seth Rogan as Donkey Kong.
The scene in question stems from the second trailer in which Mario and Donkey Kong are battling it out. Originally, we saw that Mario was getting the beatdown. However, in today's clip, it turns out that he turns the tide with a power-up. After hitting the Question Block, Mario takes on his Cat Mario form.
The upcoming film has many nods and references to games in the franchise. Cat Mario is actually a pretty new addition having first debuted in Super Mario 3D World. It was also a part of the title's expanded Switch version with Bowser's Fury, and it was also included in Super Mario Maker 2.
Rogan, who we can hear as Donkey Kong for the first time, will be joined by Chris Pratt as Mario, Anya Taylor-Joy as Peach, Charlie Day as Luigi, Jack Black as Bowser, Keegan-Michael Key as Toad, Fred Armisen as Cranky Kong, Kevin Michael Richardson as Kamek, and Sebastian Maniscalco as Spike. There'll also be surprise cameos from Charles Martinet, the voice of Mario in the games.
Here's the full commercial for The Super Mario Bros. Movie with Cat Mario:

https://twitter.com/supermariomovie/status/1619795800686739456

The Super Mario Bros. Movie debuts in theaters on April 7, 2023. You can catch up on previous trailers here and here.
Leave a Reply