Washington D.C. bar redecorates as World 1-1 from Super Mario Bros. for Cherry Blossom Festival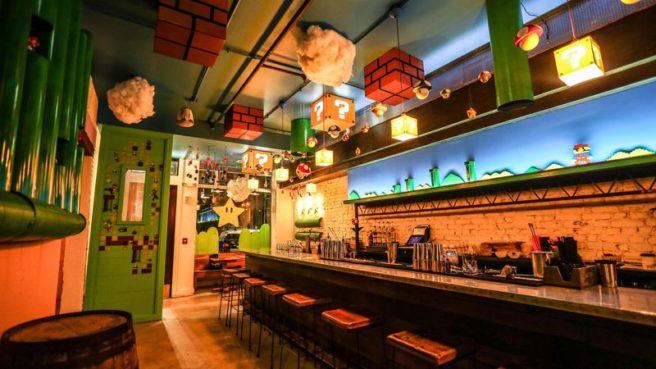 The Cherry Blossom Pub, a popular bar in Washington D.C., has recently been redecorated to the theme of World 1-1 from Super Mario Bros. for the upcoming Cherry Blossom Festival. While Drink Company, the owners of the bar in question and several others in D.C., went with classic Cherry Blossom decorations for their other locations, the Super Mario pub was an idea that they couldn't resist. Matt Fox, the special projects manager for Drink Company, had this to say during an interview with Polygon.
"The big thing that always happens in D.C. that brings in a lot of people in and is really indicative of the city is the Cherry Blossom Festival. So, what we wanted to do is bring that feeling and that look into the bar. We also wanted to do something a little bit above and beyond that, something a little bit more special and fun. We were sitting brainstorming about what else can we do along with the cherry tree, and thinking about what just speaks to us as Americans looking at Japan. Pretty much all of us grew up playing Nintendo and Super Nintendo and N64. We all grew up playing Mario. Everybody around the table, their eyes lit up and they were like, 'Yes! This makes sense. This will be awesome. Let's see where we can roll with that.'"
Complete with Bob-ombs, warp pipes, animatronic piranha plants and other iconic goodies hanging from the ceiling, the bar is a site to behold for any Nintendo fan. According to the project coordinator, Éamonn Fetherston, the centerpiece of the decorations is the Star Power button.
"You hit that, it triggers basically anything that's light-up at all to start flashing in a programmed sequence. The Mario Star Power music plays, and we have a foot-tall Golden Mario that pops out of a green pipe in the ceiling. Basically, if you want to turn a room full of adults into just slack-jawed children staring up at the ceiling, that's a good way to do it."
You can find more pictures of the bar in the gallery below, and you can check out the full article from Polygon here.
Leave a Reply