[Weekly Screenshot] Art of Balance Wii U #4 – Multiplayer Info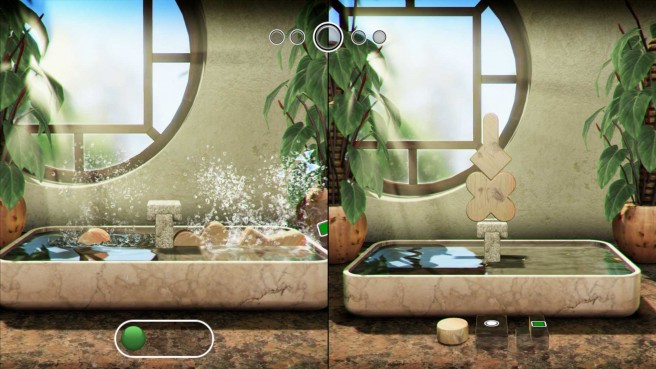 Have you guys ever heard of Art of Balance on Wii U? I have, because for 3 weeks we've been showing off exclusive screenshots of the game, complete with discussion and inside-info from the game's developer Shin'en! The feature returns with a look at something we haven't seen before: The game's newly added multiplayer modes. Manfred Linzer from Shin'en describes it best below, so check out what he has to say and enjoy the warm rays of sunlight in the above screenshot.
Hello there! Time for another screenshot from Art of Balance (AoB), our upcoming Wii U game. Today we will show you an image from one of the many multiplayer game modes.

Everyone loves playing against a friend via split-screen, and AoB allows you to play locally or online using split-screen. The best part: it's not only one on one but you can play with up to five people locally or up to eight people online. The players get arranged into two teams that try to solve the puzzles in parallel.

Although the single-player mode is great fun, we had the biggest laughs and enjoyment when playing the game in split-screen mode with a few friends. You simply play for hours and hours…

On the technical side, I wanted to talk this time a bit about how water visuals are done. On the left side you see a player's puzzle break down into the water. The ripples on the water are evaluated from a height field water simulation. It's very similar to what we implemented a few years ago in the Wii version of AoB, but this time it's GPU rather than the CPU. This allowed us to increase the simulation density and therefore its quality has improved a lot. The triangles in the water mesh were already almost pixel sized and so we capped the density at a factor of 16 times higher then on the Wii.

Nice ripples are important, but water needs proper reflections to look life-like. To get them perfect, we rendered the scene again reflected on the water plane. We also fed back the water simulation results to perturb the reflection vectors. It's a simple yet effective way to get quite the convincing water surface. In the end, it simply looked and felt great if a puzzle crashed and splashed into the water.

Next time we will take a look at the 'Challenge' Levels. Have a great week!

Yours,

Manfred, Shin'en.
Leave a Reply