Why No More Heroes 3 returns to the open world concept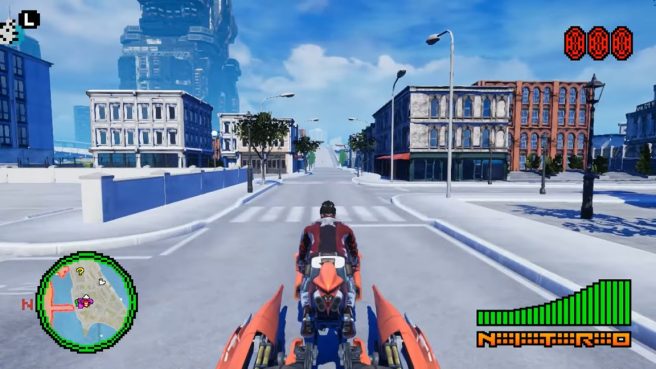 No More Heroes 3 returns to the open world concept introduced with the series' first entry. In a recent interview, director Suda51 explained about why this feature has come back.
Fans may recall that No More Heroes 2 abandoned the free roaming sections entirely. For No More Heroes 3 though, players now have a sort of open world to explore once again. Suda51 told Gamereactor that he personally missed Santa Destroy, and it was a top request from fans.
Suda51's full words:
"There are actually a couple of reasons for the change, or I guess you could say for the reversion in a way. Some of the main differences between 1 and 2 were in part 1, you had the semi open world style free-map thing where you'd go around Santa Destroy, and there wasn't really a whole lot to do. A lot of the town was really just sort of I guess you could even say empty. There was just a lot of open space. And then in 2, we got rid of some of that stuff and went on to adding the different activities, arcades and everything.

After releasing 2, I just kind of felt that I missed some of the Santa Destroy parts of part 1, even the parts that didn't really have anything to do or anything particular to see. I just felt a sort of nostalgia for Santa Destroy, and ever since I've been thinking I'd really want to go back and revisit Santa Destroy again. This time around, I've been thinking after all these years and I thought this was a good opportunity to do back to that. Instead of making a full on open world game, since we're not exactly a full AAA studio – we only have probably less than 50 people working on this game, we don't have hundreds of people working on maps and everything. So again, it's more of a free map style thing than a proper 100% open world type thing, but I really did want to revisit the town of Santa Destroy and let players revisit it and see what else we could add to make it more interesting.

When we first started developing the game, originally it was mainly focused around the area Utopinia. As we were developing it, I just kept thinking more and more, 'Hey, what about Santa Destroy? There's not really much Santa Destroy in here, I really want to see that.'

It was partially a personal decision and also the opinion of the rest of the team that Santa Destroy would be nice to revisit; would be nice to go back to and add a bunch of stuff. When it all comes down to it, the biggest reason is the fans. Ever since No More Heroes 2 has come out, for years people would say, 'Hey, we want No More Heroes 3. When are you going to make No More Heroes 3?' On top of that, one of the specific opinions and requests that we've heard more than anything was, 'We want more Santa Destroy. We want to go back to Santa Destroy.' So I want to revisit Santa Destroy. Actually developing the game, we really felt we needed more Santa Destroy. It just kind of worked out perfectly. We're going back to Santa Destroy and we're going to add a bunch of stuff to it. While it was partly a creative and personal decision, the biggest thing was the fans. That's what they want, that's what we wanted, hopefully everyone's going to be happy. You've got a bunch of Santa Destroy."
No More Heroes 3 is now available for Switch. You can see how the open world holds up from a technical perspective as part of Digital Foundry's new analysis here.
Leave a Reply