[Interview] Catching up with Harry McEntire, the voice of Noah in Xenoblade Chronicles 3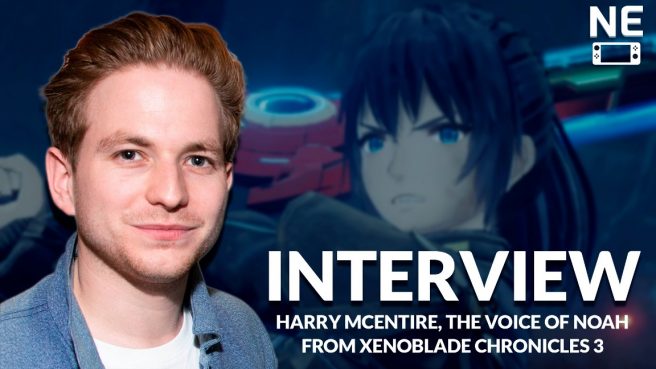 Nintendo Everything recently had the opportunity to speak with Harry McEntire, who played the role of Noah in Xenoblade Chronicles 3. The RPG has been one of the biggest games of the year, and many fans would say that McEntire had a memorable performance.
During our discussion, we talked about the challenges involved, what was most memorable to record, and interest in returning to the role of Noah in the future. You can read our full interview below.
Xenoblade has been getting more and more popular with each new entry, but in some ways, it's still considered a bit niche. Did you had any previous knowledge of Xenoblade before working on the game? If not, do you now have any interest in getting into the series?

Not only was Xenoblade new to me, but the entire world of JRPGs was a complete unknown. Working on Xenoblade Chronicles 3 was a real education; not only is it by far the biggest role I've ever had in a game, but it's also the first time I've worked as a voice actor on something with such vast emotional range. The depth and the richness of the storytelling was an extraordinary thing to be part of and I'm absolutely a convert – not only to the series, but to JRPGs in general. In fact, I've gone as far as joining twitch so that I can livestream myself playing Xenoblade Chronicles 3. It's a project I'm so proud to be part of.

Xenoblade is a series well-known for having some intense and emotional scenes, and the third entry was no different with you being involved in some really memorable moments where Noah has to show different emotions with his voice. Was it tough getting those intense moments right?

That's the fun! Normal life rarely gives us an opportunity to explore those extremes, so when work demands that you go to an intense place, I love the chance to do it. The world of Aionios is so remarkable and the scope of the storytelling so colossal that the emotion comes naturally. You just have to ride the wave.

As you have more experience in traditional acting, were there any specific challenges you faced in having to portray characters using only your voice?

When you're working on stage or screen, I feel like there are three mechanisms that convey meaning to an audience: facial expression, gesture and vocal energy. Obviously, as soon as you are working on voiceover, facial expression and gesture become largely useless to you. What I've realised as the result of my voicework so far – be that in games, dubbing or animation – is that all the energy that would be taken up by facial expression and gesture need to be redirected into the voice. What feels like a naturalistic performance often reads as underpowered when seen on the screen. That's the challenge of all vocal work and Xenoblade was no exception. In those challenging moments you need to have great people around you and we had an amazing team on Xenoblade who helped me through.

Was there a certain scene or line of dialogue that was most memorable for you to record?

The very first voiceover felt very special to do. It's a huge scene setting prologue and the world seems to sprawl out from that point. As an actor you're left in no doubt as to the challenge and opportunity you have in front of you, so you just have to hold on tight and trust that it will all turn out well in the end. So far it has!

Noah has already become one of the most beloved Xenoblade characters. Do you see any similarities between the character's personality and your own?

Whenever you work on a character, you bring a lot of yourself to it. There are many things Noah goes through that I've never experienced, but all I have as reference for his journey is my own. As an actor, your characters become reflections of yourself and facets of your own personality. I worked on Xenoblade Chronicles 3 for a long time and spent a lot of time with Noah, so whether he was rubbing off on me, or I was rubbing off on him, I'm immensely fond of him. In terms of the fan response to the character, it's been a dream come true. The Xenoblade community has welcomed him – and me – with such love and generosity. It's been beyond anything I could have hoped for.

We've seen voice actors that previously worked on the series return, whether it's for new content or reprising their role for something like Smash Bros. If Nintendo asked you to come back in the future, would you be interested in coming back to the role of Noah?

I cannot tell you how much I'd love to reprise the role in Smash Bros. I grew up playing Super Smash Bros. Melee and I have nieces and nephews who love the series – for them to play as Noah would be brilliant. As for a further life for Noah, I would love to continue or add to his story if Nintendo ever thought that was worth pursuing. I had an incredible time working on Xenoblade and I'm so proud to be part of the series.
---
Nintendo Everything would like to thank Harry McEntire for taking the time to answer our questions. You'll be able to check out his streams on Twitch here.
Leave a Reply