Yuji Horii on Dragon Quest XI – story theme, choice of platforms, protagonist, and more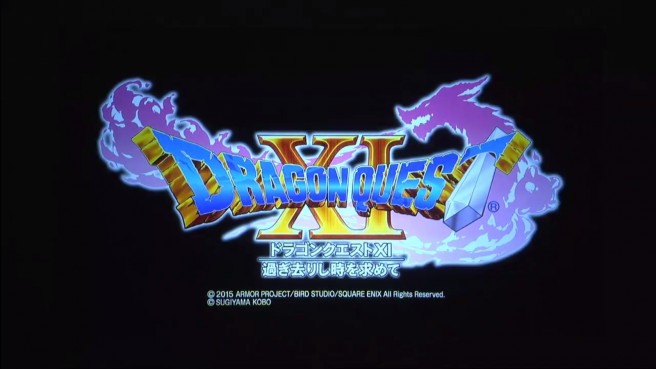 Gematsu has translated a number of comments from Dragon Quest creator Yuji Horii about the series' newest entry, Dragon Quest XI. Horii spoke with Jump about several topics, including the story theme, platform choice, protagonist, and more.
Head past the break for Horii's comments. You can find Gematsu's original article here.
On Horii's role…
Horii: "I took on a supervisor-like role starting with Dragon Quest X, but I'm back on the scene in full force for Dragon Quest XI. I'm really shepherding it from start to finish, beginning with scenario creation. I want to also be involved in the final optimizations of the battles, etc."
On the story's theme…
"This time it's also the 30th anniversary of Dragon Quest, and we have the subtitle "In Search of Departed Time." We're putting a heavy emphasis on that 30th anniversary. The story itself has the theme of "time." So, we're hoping that people who have followed the series all along will have that sense of nostalgia, and that new players will have a sense of fun and excitement. The same may be said of the supported platforms. It's already been announced, but Dragon Quest XI will be released on two: PlayStation 4 and 3DS. Furthermore, on 3DS, we you can enjoy both 2D and 3D. You can choose to play in either old pixel-style 2D graphics or fleshed-out 3D. Of course, you can switch [between modes] in the middle of the game, as well. Including the leading edge PlayStation 4, with 2D, quasi-3D [Editor's Note: he's talking about the chibi 3D from the 3DS version], and full 3D, we're giving you various types of Dragon Quest so you can follow its historical evolution."
On the logo…
"The logo gives off the impression that we're turning back to Dragon Quest I, but the dragon in the background is actually facing in the opposite direction from the Dragon Quest I logo. It's been a long time since we had the number behind the title, as well. [Editor's Note: The last Dragon Quest title to have the number behind the logo was Dragon Quest III.] In many ways, it is a sign that we're returning to our origins, while still evolving. It takes the idea of Dragon Quest I, but we're beginning anew with Dragon Quest XI."
On why it's for two platforms…
"Well, we knew wanted as many people as possible to be able to play it. We'd like people to be able to really settle in and play on a console, but at the same time it was great to have so many people playing Dragon Quest IX when it came out on a handheld, so we were really torn over which system to put it on. In the end, we just said, 'Well, why don't we just make it for both platforms?!' and kicked off the project. We thought about what style would be best for each platform, and the results are what we have now. It's pretty interesting that you can play the latest game in 2D pixel form, right? Of course, you can fully enjoy the story of Dragon Quest XI even in this mode."
On when it'll be released…
"We're working hard with the goal to release it before the Dragon Quest 30th anniversary year ends, so please look forward to it."
On what else is in store for Dragon Quest's 30th anniversary…
"Actually, we've been planning a lot of events. Most of it still has to be kept secret, but I want to stir up even more excitement than the 25th anniversary. We're thinking about various projects, and a lot of games are coming out, so please look forward to the future of Dragon Quest."
On the console version…
"The beautiful images, the sense of space… it's all just amazing. For example, you can clearly see people and monsters who are still way off in the distance. The idea is to give players the sense that the world is there, and in motion."
On the 3DS version…
"At the start of the adventure, there will be 2D classic events on the bottom screen, and 3D events that unfold on the top screen. Taking full advantage of Nintendo 3DS's capabilities, we're pursuing a sense of fun that is unique to Nintendo 3DS."
On the protagonist…
"His background and everything has already been decided, but…the full details are still secret (laughs). But…he's a cool hero, you know. You have Toriyama-sensei's design, so use your imagination."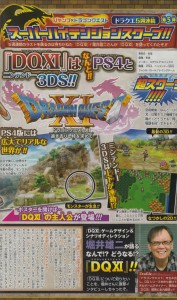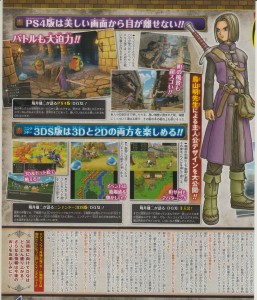 Leave a Reply