Zelda: Wind Waker HD bundle confirmed, comes with special GamePad design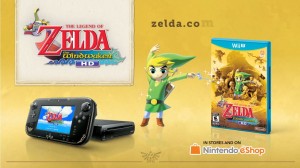 A now-pulled trailer for The Legend of Zelda: The Wind Waker HD confirms rumors of a Wii U bundle. The package will come with a 32GB console and a copy of the game.
Perhaps best of all is the special design included on the GamePad. There's a small chance that it's a decal, but given how Nintendo approaches its limited edition 3DS releases, it's likely embedded right in. You can get a look at the controller through the image above.
Leave a Reply