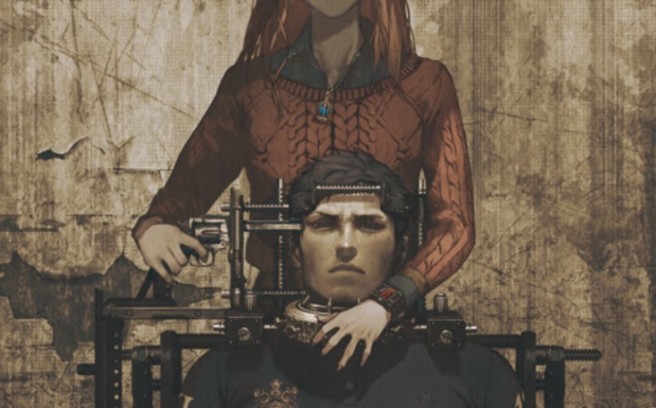 This week'sissue of Famitsu has extensive coverage on Zero Time Dilemma. You can find a bunch of details from earlier in the week here and some interview excerpts with director Kotaro Uchikoshi here. We've also now gone through the interview and picked out a few more details. There aren't massive spoilers here, but I know some folks can be sensitive to certain information about the story and other aspects – so tread lightly towards the end of the post!
To clarify something from the interview, when it was mentioned that they originally planned to make the second and third games in the series at the same time, they were going to make it for the DS. But right around that time, the 3DS and PlayStation Vita – two new handheld systems – were announced, so they considered moving development to both platforms which could allow for improved graphics and overall quality. That meant more development time and a higher budget would be needed. This is also why the team ended up developing the second game first, and then waiting to see what the reception was like before moving on to the third title – Zero Time Dilemma.
Another thing mentioned is that the ending of the second game was made to hint about a third entry, which successfully led many users to request for another sequel of the series.
They also added "Time" to the subtitle (Zero "Time" Dilemma) as time is also a theme of this game. Because time is split between the three groups, players will have to choose between them.
The game's main visual lets users understand "Ultimate Choice" at a glance. Sigma is tied to a chair, and Diana is pointing a gun at him with her finger on the trigger. The ultimate selection given to the player here is whether to let Diana pull the trigger or not.
They had been doing some planning with event scenes for the cinema sections by showing the same motions in a totally different form. For example, the motion and expression of a character being surprised can be presented in a totally different way by changing the camera angle.
Further details on how making Sigma look like his second game appearance makes the story more extreme. Having him lose both his hands and eyes will branch to an episode with a crushed future and world, so some players might want to prevent that by leading him the other way.
Finally, once again, all mysteries including those of the Free the Soul organization and Brother will be unveiled in this game.
Leave a Reply