Adventure Time: Finn and Jake Investigations has pre-order bonuses at GameStop and Amazon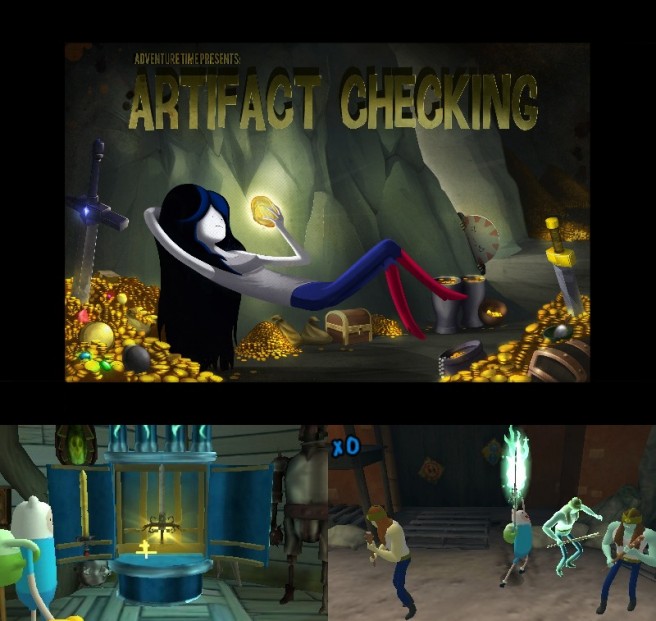 Little Orbit has shared some news regarding pre-order bonuses for Adventure Time: Finn and Jake Investigations. Extras are being offered at both GameStop and Amazon.
By pre-ordering Adventure Time: Finn and Jake Investigations at GameStop on Wii U, you'll receive the bonus chapter "Artifact Checking". GameStop's 3DS bonus is for the Sword of the Dead. Meanwhile, you can reserve any version on Amazon for $5 digital downloads credit.
We have information about each of the pre-order bonuses below.
Gamestop Exclusive Bonus Offer – All Gamestop pre-orders for the PS4, Xbox One, PS3, Xbox 360, and Nintendo Wii U will receive a code to download an exclusive sixth chapter of the game at launch for free! The Artifact Checking bonus chapter will only be available to Gamestop customers and will allow gamers to play as Marceline, the Vampire Queen, a playable character exclusive to this pre-order! Just like the five main chapters in Adventure Time: Finn and Jake Investigations, Artifact Checking plays out like an episode of the show. In it, Finn and Jake discover that Marceline is having a yard sale and is selling off all the magical artifacts hidden in Billy's Cave! What the stuff?! While Finn and Jake set off to track down Billy's sword, Marceline must find and retrieve all of the dangerous artifacts she has sold and restore peace and order to the Land of Ooo.

Gamestop Exclusive Bonus Offer for Nintendo 3DS – Every Gamestop 3DS pre-order will receive an exclusive code to unlock the powerfully-awesome Sword of the Dead at launch! Striking an enemy with this sword temporarily turns that baddie into a ghost warrior homie that fights alongside Finn and Jake for short period of time. When the ghostly form wears off that enemy is defeated. The Sword of the Dead is one of five magical swords in the game, and once these blades are in a player's inventory they can be swapped on the fly. When it's "Ability Time" each sword wields a unique power. Schmowza!!

Amazon Exclusive Bonus Offer – Customers who pre-order Adventure Time: Finn and Jake Investigations at Amazon will receive a BONUS for digital downloads at launch worth $5. Players can customize their device with Adventure Time ringtones, wallpapers, icons and more. Mathematical!
Source: Little Orbit PR
Leave a Reply